Taking the Ferry from Greece to Turkey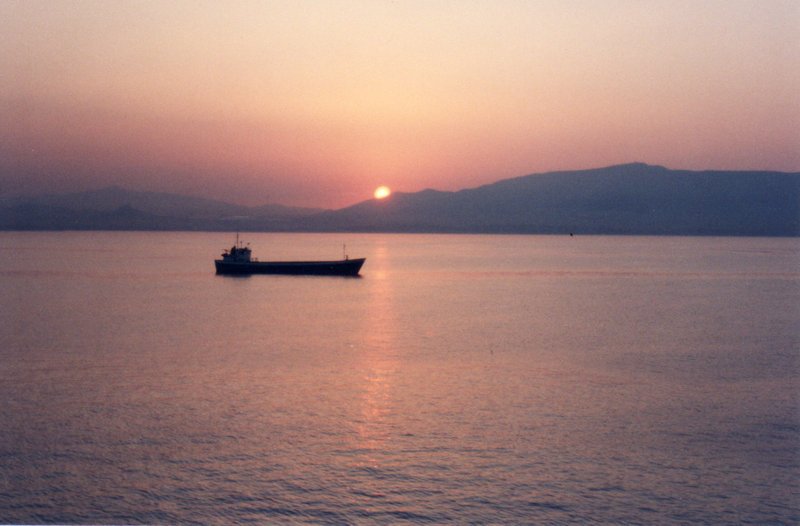 Long historical enemies, the Turks and the Greeks, especially along the Aegean Sea, have more in common than many will admit. (Turkey even has some spectacular Greek ruins.) Greece and Turkey are two of the finest destinations on earth, with delicious healthy cuisine, fascinating historical sites, and friendly people. Combining them on a trip is an obvious choice. How best to get from one to the other? Take a ferry between Athens and Chios, one of the Greek Isles, and another short ferry ride from Chios to Turkey (Çeşme) from there.
I took the ferry route from Çeşme, Turkey to Chios, stayed overnight (for fun, not necessity of the ferry times) and continued on a larger ferry from Chios to Piraeus. In under an hour, a catamaran gets you to Chios, an island alleged by some to be the birthplace of Homer; seven hours sailing takes you on to Piraeus, Greece's largest port and entry point to Athens.
Ferry Travel from Piraeus (Athens) to Chios
You can easily reach the port of Piraeus using the Green Metro line in Athens. Piraeus is the final stop. From the Athens airport use the Blue Metro/Line 3 to connect to the Green Metro/Line 1 (about 80 minutes travel time). See an Athens metro map here. Depending on which ferry company/route you are taking, you may choose to walk from the Piraeus metro station. For ferries to Chios, you likely depart from Gate E2 (about a 20 minute walk) but check your ticket for confirmation. Free buses run up and down along the port between gates for travelers, and bus stops have electronic signage to indicate bus times. Passenger waiting halls are air-conditioned, offer water coolers and snacks for purchase, and the entire port is supposed to be covered by free WiFi. You want to be at your ferry embarkation area at least an hour before departure. Here is a map of the Piraeus Port.
Check prices/buy tickets here with AFerry.
Enter "Chios" to see all the route options:
Ferry Travel from Chios to Piraeus (Athens)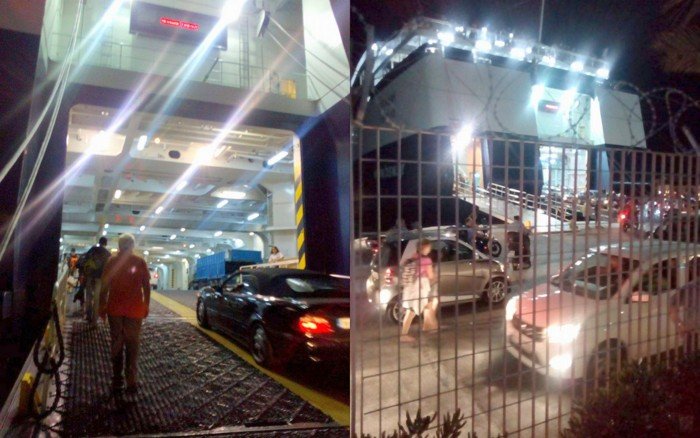 Evening ferry departure from the port of Chios. (photos by Elizabeth Briel)
The port at Chios is easy to navigate and services along the waterfront are numerous. This is an overnight sail (about 7 hours) on a large car ferry. While I slept on the deck (after attempting to sleep sitting up in a seat), many will find that the personal cabins are totally worth the extra Euro. They come with a shower. Be at the embarkation area of the ship one hour before departure. You are already in Greece/the EU, so there is no immigration process here or at your destination.
At port in Piraeus, you can take a taxi or take one of the port terminal buses (see above) or walk to the Green Metro (line 1) to head into Athens. Moderate luggage is not much of an inconvenience.
Taking the Ferry from Chios to Turkey and More
The island and town of Chios is the gateway to Greece from Turkey (and vice versa, obviously). Ferries make the short crossing between Chios and Çeşme on the Aegean coast of Turkey. If you are going to Athens from Chios, an overnight car and passenger ferry can take you from Chios to Piraeus (the port of Athens). But there are also ferries from Chios to other destinations in Greece, such as Evdilos, Fourni, Ikaria, Kavala, Lemnos, Mykanos, Mytilene, Naxos, Oinousses, Patmos, Psara, Rhodes, Samos, in addition to the international ferries to Turkey. Some of these Greek Island routes run once per week and may change schedules seasonally. Try the ferry search engine below to check available routes, prices and schedules.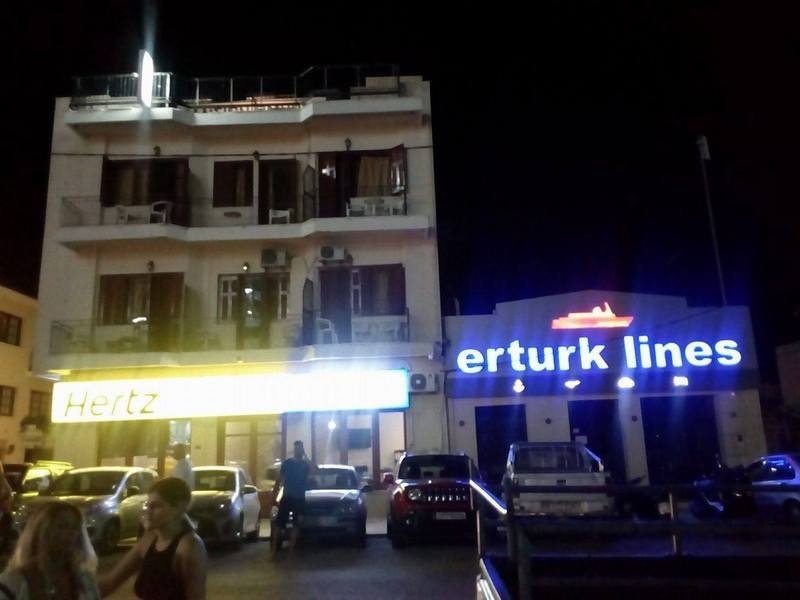 Taking the Ferry from Çeşme, Turkey to Chios, Greece
Forgive me for stating the obvious, but you do need a valid passport to cross between Greece and Turkey, plus the required visas, depending on the nationality of your passport. Greece is a European Union member. Your passport should be good for 6 months past your date of entry. You will need to change Euro before arriving at the ferry terminal in Çeşme and it is recommended to not wait until the last minute or to expect a change office to be open for an early morning departure. Check-in closes one hour before departure.
Two companies, Ertürk Lines and Turyol make the crossing in about 25 to 45 minutes respectively. Ertürk operates a high-speed catamaran. Check departure times and prices in the yellow widget below. This is managed by Aferry.uk, a reliable ticket agent which I've used on many ferry routes before, including several ferry crossings between South Korea and Japan, as well as the ferry between Helsinki, Finland and Tallinn, Estonia.
Buying Ferry Tickets Online Made Easy
I typically use a booking agent for ferry tickets. Much like with airlines, tickets in advance can be cheaper than when you show up at the counter. Many travelers, myself included, found it easier — and cheaper— to just use AFerry (see the search box below), not just in terms of ease of use for English speakers, but also even coming in with a lower price and putting all possible lines out there for comparison. You get a PDF voucher to exchange for your ticket when you arrive:
Enter "Chios" to see all the route options:
Other Ferries Between Turkey and the Greek Isles
While this is a popular and effective ferry route to get from Athens to Turkey, there are indeed other Turkey-Greece ferry routes. I just haven't been on them yet! For example, these Turkey-to-Greek Isle routes: Bodrum – Kos, Fethiye – Rhodes, Kuşadası – Samos, Marmaris – Rhodes, and Ayvalik – Mytilene (Lesbos). Each of those Greek Isles is a beautiful destination in itself, but they all also offer ferry connections on to Piraeus/Athens. Cut and paste them into the AFerry widget above to see prices, schedules and trip duration.
A Note About the Greeks and the Turks
On the ferry from Turkey to Chios, Greece, I met a Greek man who was business partners with a Turk, making his weekly commute between to the two countries. The two nations have a long history together, often on opposite sides of a battlefield, so it is no surprise that they have a reputation for not getting along. As with many national animosities, much of it is kept alive by politicians over the years. One on one, they get along fine. (During a lesson while I was teaching Turkish kids, I asked why they hated the Greeks. They thought a moment, and the answer was "Because they hate us?" We talked about mixing and mingling and one student even came back to class with the discovery that she had Greek ancestors. Read about my Turkish experience in my book, The Yogurt Man Cometh: Tales of an American Teacher in Turkey.)
Check out some other great ferry trips here on The Mad Traveler:
Taking the Ferry from Finland to Estonia
Traveling Between Korea and Japan by Ferry