Getting a Visa for Vietnam: Rules, Snafus, Solutions
Visa on Arrival or E-Visa for Vietnam
It has become so much easier to get a visa for Vietnam since I first did it myself several years ago and wrote this post. The rules changed a few times, and I used to either contact an embassy at home or use the Vietnamese Embassy in Bangkok. But now you can get an e-visa for Vietnam, but ONLY if you are arriving at one of the five international airports of Vietnam (Noi Bai in Hanoi, Cat Bi in Hai Phong, Da Nang in Da Nang, Cam Ranh in Khanh Hoa and Tan Son Nhat in Ho Chi Minh City)
This is not exactly a Vietnam visa on arrival – you do need to make arrangements and pay a processing fee before you arrive. Then when you pass through immigration at the airport in Vietnam, you must fill in a visa application form (again! so you can do this before you arrive to save more time) and present the application form, your two passport photos, and the visa approval letter you receive from the e-visa service via email. You will wait then be called up to the counter to pay the stamping fee.
So the price of your Vietnamese e-visa is a combination of a processing/service fee from an e-visa service provider, which you pay online, and a stamping fee, which you pay in cash, USD and exact change, at the airport. After this process, then you can pass through immigration. This is much easier (and cheaper) than going to embassies as we did in the past.
The stamping fee depends on the type of tourist visa: 1 month single or 1 month multiple entries, or 3 months single and 3-month multiple entries, or a business visa which is totally different. See Vietnam Visa for more information. At the time of writing, the stamping fee for US, UK, Australia and most European passports was $25 for one month visas, or $50 for three month visas. Expect two business days to receive your visa approval letter by email. Some nationalities can pay an extra fee to expedite the e-visa in one business day or even in four hours! I've done both before.
The processing or service fee for a Vietnam e-visa varies, but is in the neighborhood of $21 USD, payable with a credit card on a reliable e-visa service. I have personally used the Vietnam-Visa.com e-visa service for my last three trips and have found them reliable, fast, and responsive when I had a question. Additionally, they offer discounted service fees when more than one traveler applies together.
IMPORTANT NOTE: Be sure your passport is valid for at least a month past the end date of your intended stay. That's the current official rule according to Vietnam authorities. However, many airlines may enforce a six-month validity on your passport beyond your intended return date. Six months is a wise practice in all international travel. We've seen travelers rushing from O'Hare airport to the passport agent in Chicago after being denied boarding due to a soon-to-expire (less than 6 months) passport. Don't be that guy (or gal). (But if you are, we've seen new passports issued in Chicago in a matter of hours.)
Why Wouldn't I Get an E-visa for Vietnam?
While the Vietnam visa on arrival is definitely easy and some e-services offer discounts for people who apply together or in groups, you might consider getting the visa ahead of time at your local Vietnamese embassy or consulate. Why? Firstly, because maybe you are choosing to arrive by land or boat. The e-visa is only available for travelers arriving at one of the international airports. But even then, you may prefer a pre-arranged visa. Because when a plane or multiple planes unloads at Tan Son Nhat International Airport, for example, a fair number of the passengers have likely also purchased the e-visa. The result may be a waiting area filled with travelers watching with impatience as the e-visa passports pile up behind the counter — in no particular order and likely with no sense of urgency. I waited nearly an hour for mine in June 2017. Anyone with a pre-arranged visa will bypass this waiting area and go right through customs. But be aware that visa fees are higher than the combined e-visa service and stamping fees.
Pre-Arranged Visas
Visa fees at the Vietnam Embassy in USA as of 2017:
1 month, single entry: $80USD
1 month, multiple entries: $135USD
3 months, single entry: $110USD
3 months, multiple entries: $160USD
6 months, multiple entries (available for US passport holders only at this embassy): $170 per person
1 year multiple entry visa

 

(available US passport holders only at this embassy):

 

$190 per person
**The visa is valid from the proposed date of entry on the application form. Fees may be different in different countries.
In the USA, the Vietnam Embassy is in Washington DC and for a Vietnam visa they ask you to send in your passport (plus a trackable express mailer from USPS or FedEx) for a 5 business day turn around (or a 1-2 business-day express turnaround). But I needed my passport for something else and I couldn't do it. What to do?
The Loose Leaf Visa. The Vietnamese embassy understands the inconvenience of being without your passport so they provide the option of having a loose paper visa sent in the mail.
This loose leaf visa is presented at your port of entry in Vietnam, stamped by the immigration official, and kept in your passport until your departure. At that time they take it back (so obviously you mustn't lose it). This also means for passport-stamp collectors you won't get to keep the visa. Never mind, it uses up a whole page otherwise.
The cost of the application has changed frequently over the last couple years, at least for Americans, so be sure to check the embassy page for updates (you may need to call or email them), though the e-visa service provides its own information already. Email the Vietnamese consulate in the USA (vnconsular@vietnamembassy.us) for the current fees. The Vietnamese visa application is online (you will go to a Vietnamese page but you can click English and that might work) and in PDF format. Do note that the loose-leaf visa requires TWO passport-sized photos rather than the one required when you send your actual passport in with the application.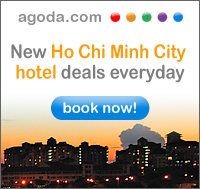 You may not need proof of a flight but the application does ask for the address of a hotel in Ho Chi Minh City. Some applicants may be required to show both, either here or in Vietnam, so get on a booking site (I typically use Agoda.com because most properties have easy cancellation or changes if I am merely using the reservation to satisfy a visa requirement) and use a likely address (you don't need to book just for the visa application). Regarding an onward ticket, while immigration may not ask for it, some airlines may ask you before your flight to Vietnam. I've been hassled for this in several Asian countries and the airline wouldn't give me my boarding pass without something as simple as a flight itinerary showing my departure date from Vietnam.
Get a Visa at the Vietnamese Embassy in another country along the way
For example, at the Vietnam Embassy in Bangkok, Thailand you can get same-day visas — drop off your passport in the morning, pick it up in the afternoon. (There is an express fee, of course, but if you have the time you can get it in 1-4 business days for the normal fee.) Again, this is a more expensive route to go and the waiting here will be more than if you had just done the e-visa. Though on arrival you might get to your hotel faster by an hour, and for some travelers that may be worth it.
And finally…
The visa process is pretty straightforward, but I had a small snag once. (Read the full melodramatic story on my blog.) In short, I mailed the application to the embassy in DC and forgot about it. It never got there.
One possible last resort that may work in such a case: Hyperventilate a bit, then call the "emergency" number at the Vietnam Embassy (also at the bottom of the visa application) during business hours. They gave me an email address and told me to email the application, a copy of the passport, a copy of a passport photo, and my credit card number and address. I was charged $100 for the application and $20 to overnight the loose leaf visa to me. It arrived on Saturday just over 24 hours later. I wasn't even charge the expedited fee. I don't believe this is standard procedure and I feel a bit lucky. But it was nice to see how helpful the Vietnam embassy in DC was.
This whole drama could have been avoided had I 1) updated my passport sooner rather than trying to get a full 10 years out of it, 2) tracked the original package to the embassy, 3) remembered to contact them if I hadn't gotten my visa within the 7 business days.
Full story of my idiocy in nearly blowing this easy visa process.