Taking the Ferry from Helsinki, Finland to Tallinn, Estonia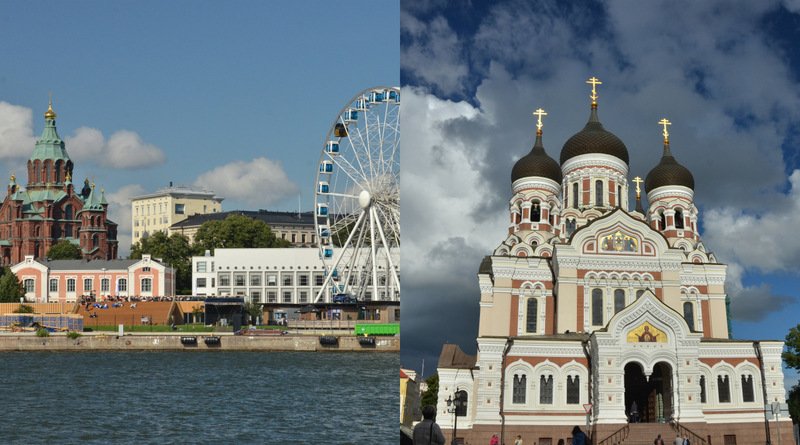 Visiting any city, I love a good day trip out into a nearby region. Helsinki has its islands – particularly Suomenlinna, the UNESCO World Heritage Site – but I was pleased to see a day trip could also put me in another country: daily ferries cross the Baltic Sea to Estonia and its charming old city of Tallinn.
Three things to note:
*Fast ferries from three companies connect Helsinki and Tallinn in as little as two hours.
*Tickets may be cheaper in advance and cheaper if you take the slightly slower 3.5 hour ferry.
*Round-trip tickets might not be as cheap as booking the crossings individually with different ferry lines. (We traveled to Tallinn with Tallink and returned to Helsinki with Eckero – the search engine below provided that option as well.)
There are two ports of departure in Helsinki: the West Harbor and the South Harbor.
We booked the 3.5 hour ferry departing with Tallink Silja's Europa, an 8 a.m. departure from Helsinki at Olympia Terminal in the South Harbor. This is walking distance from the waterfront market and the east end of Esplanadi Park. You can see the ship in port, a large cruise ship with the massive door/ramp in back for loading vehicles and cargo.
We booked via AFerry.co (type in Helsinki-Tallinn above to check prices) as I typically do, finding that here (as well as in Japan and Korea ferry crossings) the prices online are often cheaper and you can see multiple companies to compare. In our case we departed Helsinki with Tallink Silja but returned from Tallinn on Eckero. (Viking ferries appeared to be consistently higher priced.) We boarded as foot travelers but others took this as a car ferry from Helsinski to Estonia.
Check-in opens at least an hour and a half before departure and you take your reservation number and passport/ID to the ticket window to get the bar-coded boarding ticket. Boarding begins one hour before departure and ends 20 minutes before departure.
We took two days in Tallinn, which is enough to see the historic city center and perhaps take a tour or two of the major attractions. We booked an AirBNB rental (use my link and we both get a travel credit) at the edge of the historic town so everything was walkable, including the ferry terminal.
There is luggage/baggage storage at both Helsinki ferry terminals and Tallinn ferry terminals. Page down for photos and information.
SPECIAL NOTE: Most – but not all – passenger ferries depart Helsinki from the West Harbor. (Tram 9 or 6T) But in April 2016, Tallink Silja started running a ferry from Olympia Terminal in South Harbor, while keeping all other Tallinn routes out of West Harbor. This was a disaster narrowly avoided. We were told by a well-meaning local that we needed to go to the West Harbor for this trip. It took more digging than should have been necessary because the ferry was not identified by ship name on the travel voucher and the website information for both the ferry company and the Port of Helsinki went by ship name. Some cross reference, an asterisk with fine print, and an old press release under News at Tallink's site revealed the easily overlooked exception for the ferry we had booked. Check those websites!
Viking ferries depart from their own piers in South Harbor as well.
For local transportation to and from the piers, use Helsinki's handy route planner
If you need a hotel in Finland, check prices here.
The Ferry Terminal in Tallinn
Tallink ferries arrive and depart from Terminal D in Tallinn port. There is a currency exchange and ATM as well as coin-operated luggage storage lockers for 2 and 3 Euro for 24 hours.
Eckero ferries arrive and depart from Terminal A in Tallinn port. Terminal A has currency exchange and luggage storage open from about 7 am – 6:30 pm. There is an attendant and prices vary for luggage, but there are no self-use lockers here. One suitcase, or two plastic bags, or three cases of beer (seriously) costs 3 Euro for up to 24 hours.
Need a hotel for Tallinn? Check prices for hotels in Tallinn
Luggage Storage at Helsinki and Tallinn Ferry Terminals:
Because we had bags for a 37-day journey, we decided we could pack a smaller bag for the short trip and store our luggage at the Helsinki ferry terminal. A rather roomy large locker cost 4 Euro for 24 hours. Pay the 4 Euro and then pay the overage when you return. The limit is 7 days and then they take your bag where you can reclaim it later. The final price of 12 Euro was worth the lighter load and meant we could easily walk to our accommodations in Tallinn, getting a look at the city even before checking in.
Baggage storage at Olympia Terminal included the standard coin-operated storage lockers, to the left as you enter the terminal. A change machine takes Euro. However, there is a convenience shop facing the lockers that will also take your bags if the lockers are full. The family-business shopkeepers are the attendants and very friendly.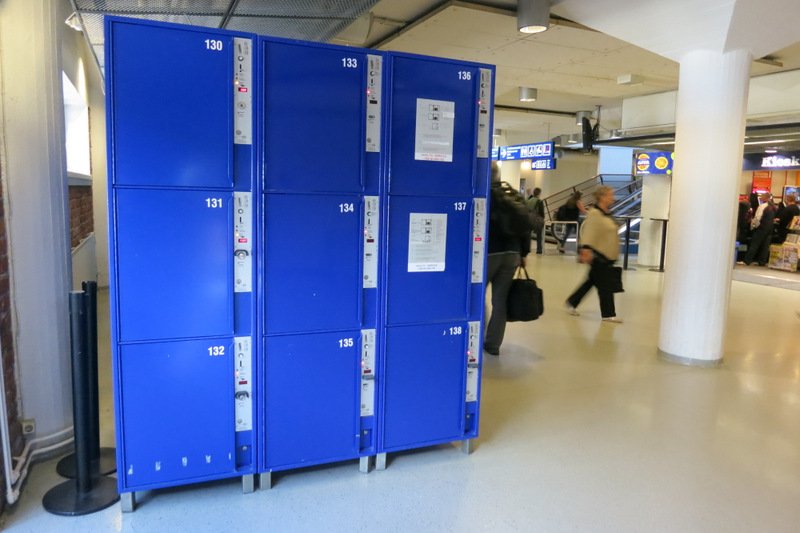 Baggage storage at the West Habor terminal in Helsinki also available and coin-operated.
There is also ferry terminal baggage storage in Tallinn, where you can leave bags up to 10 days:
Luggage storage at Tallinn's ferry terminals included coin-operated lockers in Terminal D and a luggage room with an attendant. A change machine and ATM were on hand (for Euro). The posted hours were for 8:30-19:30 at that time.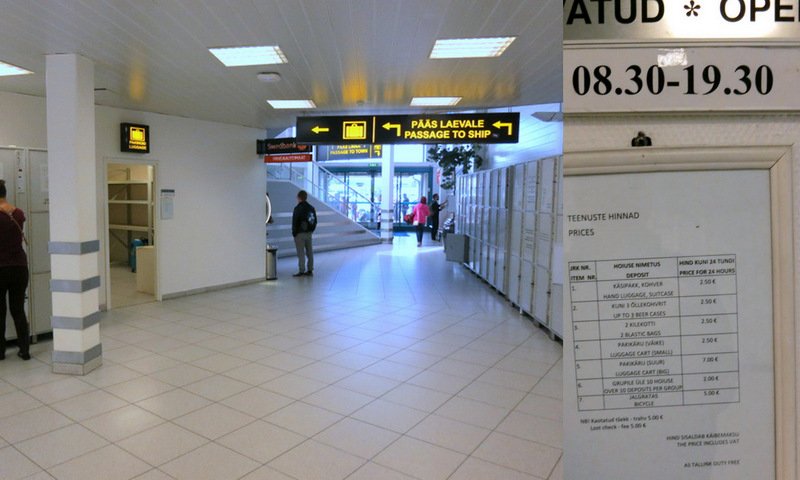 Luggage storage at Tallinn Ferry Terminal A isnext to the Currency Exchange is a luggage storage room. Note the hours of operation at Terminal A's window were posted as 07:00-18:30 with a pasted on '8' which suggests they may change periodically.
Check out some other great ferry trips here on The Mad Traveler:
Greece to Turkey by Ferry
Traveling Between Korea and Japan by Ferry