Best Rail Trails Wisconsin – 3rd Edition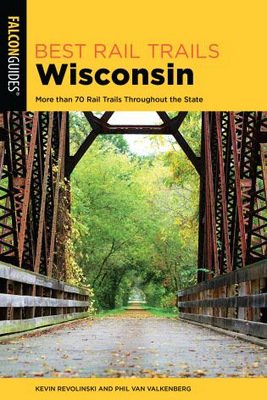 Click here for more information and to purchase!
I inherited this book from Phil Van Valkenberg years ago, taking it over and continuing to update and expand it for the last two editions. The number of Rail Trails in Wisconsin continues to grow, and as they do, a network like a highway map is beginning to connect many parts of the state, from the intersection of five state and city trails in Madison at a roundabout with an overpass and on ramps to the planned 600+ mile Route of the Badger that centers on Milwaukee and connects Illinois to Sheboygan, and Milwaukee to Madison.
Over 70 trails are in this most recent edition, and 25 of the best suited for a day trip are described in greater detail with clear maps and narrative. Information about length, junctures, trail surface, facilities, fees, and more are included for all 70.
Kevin Revolinski has written for the New York Times and the Chicago Tribune, and he is the author of several guidebooks, including Best Easy Day Hikes Milwaukee (FalconGuides). He resides in Madison, Wisconsin.
See more books by Kevin Revolinski