60 Hikes Within 60 Miles of Madison – 3rd Edition
A Guide to the Best Hikes in Madison and Southern Wisconsin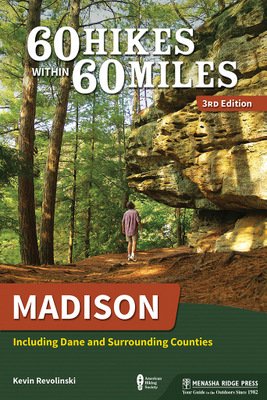 Click here to purchase or contact the author for signed copies to be shipped (or hand delivered in Madison!)
Now in its Third Edition, including some new hikes and much needed updates to the previous hikes! Madison is fortunate to be surrounded by a veritable cornucopia of lakes, rivers, wetlands, bluffs, prairies, woodlands, hills and gorges perfect for hiking. The Ice Age Trail, which roughly follows the farthest reaches of the last glaciers, runs through our midst. Sandstone from 400 million years ago juts out of bluffs at many nearby state parks, and rock outcrops dating back to 1.6 billion years ago are something we almost take for granted.
Famous lovers of nature such as John Muir and Aldo Leopold once took their inspiration from the Madison area. Wildlife and wildflowers are plentiful and so are the parks and hiking trails that grant you access to them. 60 Hikes Madison will take you to the best hikes in the Mad City and the surrounding counties. From easy strolls along the lakes to challenging 10+ mile segments of the Ice Age Trail, there is something here for everyone.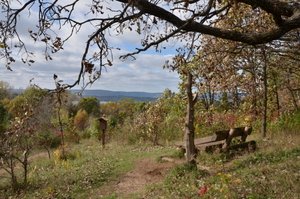 See my five favorite hikes around Madison on my blog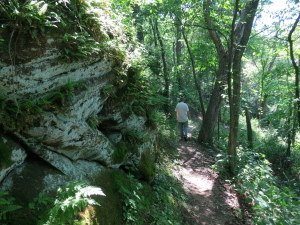 Each hike profile shows you what to expect in terms of difficulty, facilities, landscape and wildlife, access hours and rules, as well as a trail map, driving time and directions to find the place. This is the latest installment in the highly successful 60 Hikes series from Menasha Ridge Press.
"This book hits the nail on the trailhead. It's spectacularly comprehensive, well organized and fun to read. Each hike is described in stunning detail, and including nearby activities to entice recreational and hardcore hikers alike makes this more than a guide–it's a backstage pass to outdoor adventure Madison-style!" –Brennan Nardi, Editor, Madison Magazine
Larry Meiller interviews Kevin on Wisconsin Public Radio. Listen here.
An interview with Kevin Revolinski in Isthmus is available here.
Read a review from the blog of 105.5 WMMM's Kitty Dunn.
Look for the book at your local bookstore or order it here (click the cover image above). This makes a great gift idea for incoming UW-Madison students or residents who appreciate the outdoors! Signed copies directly from the author may be available in the greater Madison area. Home, office, or bar stool delivery. Email revtravel at yahoo dot com
Wondering what kind of flower that is on the trail? See a selection of some of Wisconsin's wildflowers for those of us who like to know the names of things.
A big thank you to The Shoe Box, the best shoestore in Madison (though they are in Black Earth and Baraboo, actually!) They sponsored the boots that took me down 60 long trails last summer!