Trang Islands Days 5 and 6: Koh Laoliang
Koh Laoliang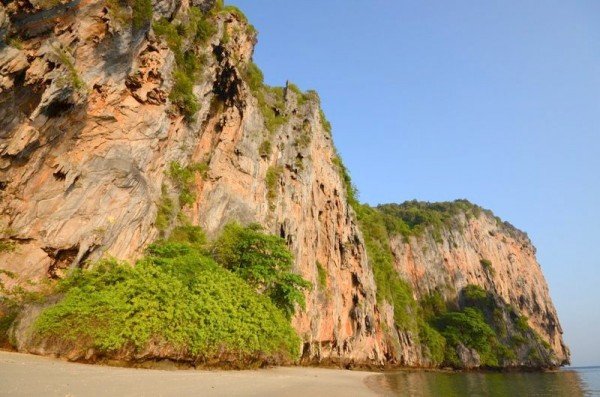 Our last island in our Thai island hopping trip was Koh Laoliang. Peung has been obsessed with it since finding information about the camping resort there at a travel/tourism expo at Queen Sirikit in Bangkok back in maybe 2008. There's only one place on the island and when you pull up in a boat, you realize why.
From the water all you see is an impressive chunk of high-rise limestone covered with a bit of greenery. Tucked into a sort of crook of an elbow is a narrow strip of sand with a scattering of shade trees and a nice beach. That's it. And that's Laoliang Island Resort, a collection of about 20 large two-chamber tents on solid platforms with fans and lights run by a generator at night.
The manager Mike has been here since almost the beginning when he was invited down with a group of other serious climbers from Railay to make climbing routes. And that's the biggest draw here, the climbing. It is quite a remarkable setting with the sheer karst limestone that looks like it's melting in the sun. Climb up from the beach or go around to the other side of the island where there is none and do a little deep-water soloing. I am not a climber but I must say at least the "easy" routes and Mike or others on the ground with the guide ropes shouting encouragement ought to get one's enthusiasm going. Yes, beginners are welcome.
Laoliang Island Resort opened for the 2003-2004 season, and then early in their second season was the tsunami of December 26, 2004. Fortunately, the resort is on the east side of the massive rock and the water rose 2.5 meters above the highest point on the shore. No one was lost. "Everyone says it's too bad we are not on the west side for the sunset, but if we had been there everyone would have been lost," says Mike. After the tragedy, the cancellations started coming in. The resort had thus far been a best kept secret for the Thais, but when the climbers came to set up routes for them, they suggested the foreigners would love this place. A lot of Germans come to these islands. Babies in tow sometimes.
It's an all-inclusive deal with all you can eat simple buffet meals, functional, simple fried rice and a soup. Free coffee and tea all day. Nutella, jam, and a loaf of bread.
The cliffs like frosting melting in the sun, white, rust, gray, charcoal, even pink streaks. Swim throughs at high tide. A rope along the snorkeling zone to keep you oriented or to tie up a kayak while you jump in.
Be aware that the season is November 15 to April 15. Tents and equipment gets packed up each season and taken ashore.
What's To Do Besides Climbing?
At night folks gather around the little bar for reasonably priced drinks, and out come a couple of community guitars. This could mean Pink Floyd and Bob Marley covers (whatever you might feel about that) or if the Thai are on the island (or the staff have the instruments) it can be one of my least favorite Thai camping events.
Snorkeling equipment is on site and you can float across the area in front of the beach for a bit of coral and reef fish – though none of this compares to Koh Kradan. Swimming through the areas along the cliff face during high tide is fun too and an unusual snorkeling experience for most.
For such a small speck in the sea there is enough nature to love: sea eagles, kingfishers, swallows, swiftlets. Reef herons find perches up where the rock climbers go, or stand atop the rocks and coral just beneath the surface when the tide is out.
If you are a fan of the little things in Nature, then you'll enjoy low tide. Shrimp gobies linger just a few steps offshore and with a mask and snorkel you can watch the lazy googly-eyed fish stand watch while its two lobster-looking shrimp flatmates do all the heavy work of tossing out shells and scoops of sand. I'm always amused. Simple pleasures, OK?
A paddle around the island in one of the resort's kayaks (included) reveals the steep cliffs over deep water on the west side – perfect for deep-water soloing – but not much else. Still, the trip takes less than an hour and is something one does because it is there and can be done and the scenery just never gets old. Then paddle over to the sister island Laoliang "Phi" ("big brother," as it is the bigger of the two rock islands, though its livable terrain is but a tiny strip of beach). Laoliang Nong (younger sibling) is where you are actually camping.
A snorkel trip to Koh Takian might not be what it once was as coral in the Andaman Sea is dying the last several years. However, it is still a decent collection of a few colors and varieties of hard coral, with patches of dead staghorn fragments between the good spots. I saw an eel, a few schools of small to mid-size reef fish. For those who don't snorkel a lot, it should be fine. The current can get a little strong but your boat will trail a life jacket and rope so you can stay in one place without much effort. A thin sandy beach backs up the coral garden for a shore break. Kradan still outdoes this site in health, variety, and area. None of them comes close to Satun's outer islands of Tarutao National Marine Park (Ko Rawi, Ko Adang, Ko Lipe and the surroundings)
Climbers should definitely come out here and spend some time. I was good for two nights (maybe more with a good book) and I am happy I can count it as visited – the scenery is certainly worth it.
_______
That wraps up the islands on this trip, but what we figured would be just a wait-for-the-plane stay in Trang City had us wondering if Trang isn't a little overlooked, like a Krabi Town even more removed from the beaten path. Our stomachs loved it. But you'll have to wait for the Trang City posts a bit. We interrupt this trip recap for a little bit of Israel and Jordan these first few weeks in May… stay tuned!