Northern Lights in Finland: Aurora Holidays


We looked out over the Tenojoki or Teno River at Norway, at the mirror image of the Finnish terrain. Modest mountains (or big hills if you prefer) with low green cover, mostly brush and a stunted form of birch. This was about as far north as we could get in Finland and the bridge 5 miles west in the nearby town of Utsjoki had a small border office on the Finn side and nothing at all at the other end. We couldn't even get a coffee on the Norway side without maybe an hour's drive to the nearest town.
But if you wanted to see the Northern Lights, this was the place to go. In winter when the sun at noon only hinted at itself somewhere below the horizon, the long nights were ideal for seeing the Aurora Borealis. But we were here at the perfectly wrong time, when you were certain not to see the phenomenon: summer. It was early August and the midnight sun had finally started to set for about 3 or 4 hours, though the sky still remained bright enough to drive without headlights.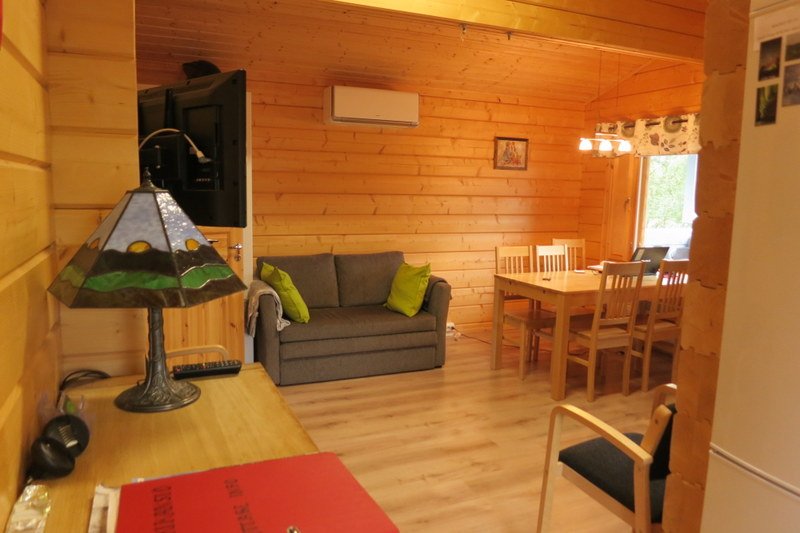 We stayed in one of four cabin rentals at Aurora Holidays. The two-bedroom cabins offered simple kitchens with full-sized refrigerators, two twin beds in each room, a dining area and a large bathroom with a sauna attached. They perched above the river bank where wooden stairs descended to trees and blueberry patches with a half-sheltered campfire pit and the most amazing grill and gazebo. Travelers booked the cabins by the week in winter but this was low season and the only other people here were salmon fishers, trolling the waters of the river in local boats, the engines shut off to drift downstream or whining as they struggled upriver against the current to start over.
Tiina Salonen, our host, had picked us up from Inari, just over an hour away. Public transit is minimal this far north – though it exists – and she typically retrieves guests from the nearest airport at Ivalo even farther south, a two-hour drive. My cousin Irene had gotten us as far as Inari where Tip and I spent a couple nights hiking during the day and taking a boat tour of Lake Inari. I found it a curious coincidence that Tiina's surname is also my great grandfather's surname, so who knows? Perhaps we are very distant cousins as well.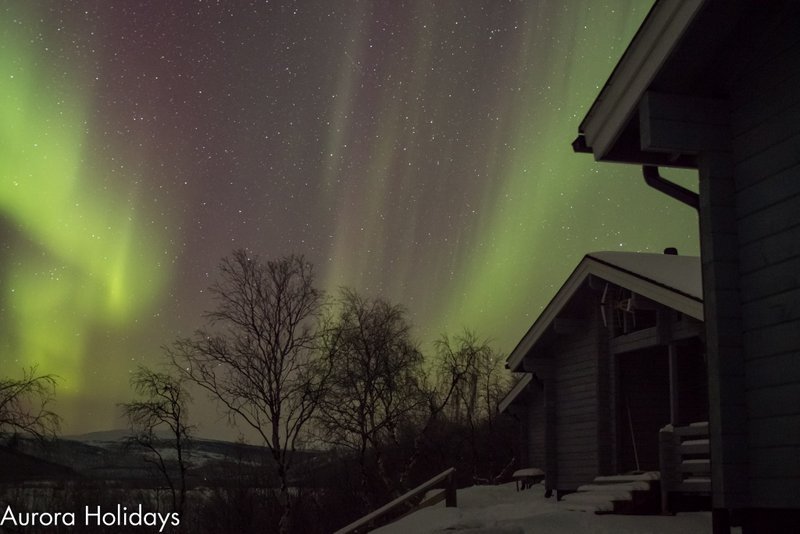 In winter Tiina gathers guests in a van and they "chase" the Northern Lights: If the light show is on but the clouds are out, Tiina communicates with others up and down the border who may have clear skies, and off you go. No one can guarantee seeing the lights, but great efforts are made to increase your chances.
But the timing of our trip meant we'd see what else Utsjoki had to offer. Outfitters could set us up for paddling canoes or kayaks, but we decided to go hiking. Tiina took us to a small historical park where traditional Sami buildings have been preserved and a shop sells local crafts and preserves. The next day our guide Emilia took us up into the fells of the Kevo Strict Nature Preserve along the Geological Trail up onto Dorgganjunni Fell for some great views of the valleys of the Teno and Utsjoki Rivers and the snow-fringed mountains far in the distance in Norway. Much of this area was shaped during the Ice Age. This lollipop trail is about 3 km. The Kevo Trail is 63 km long with an extending trail through Kiuvi fell that adds 13.5 km to the hike. As is typical on a Finnish trekking excursion, we stopped at one of the park fire pits, where the chopped wood awaits, and built a fire so we could have our Finnish coffee fix.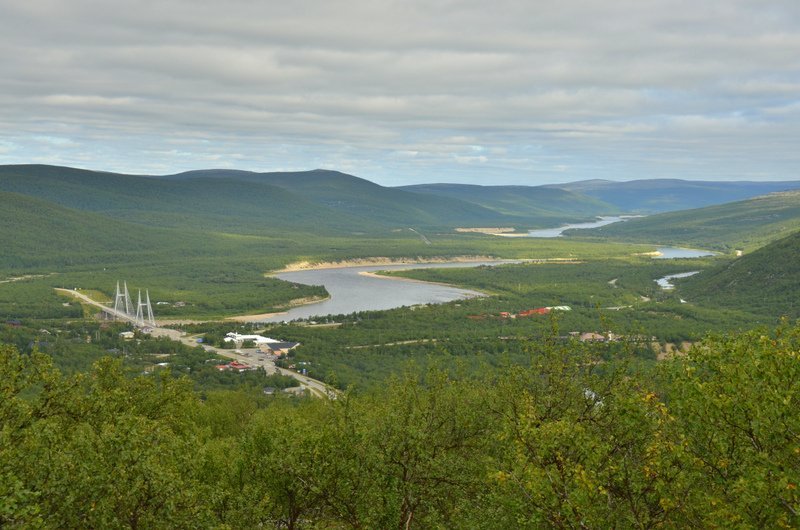 Along the trail we picked bilberries, and could see next month's lingonberries already forming. Far up toward the highest levels of the hike, we found spring-fed wetlands, something I generally expect at lower altitudes. Skirting the spongy terrain carefully we chanced upon a handful of cloudberries still lingering though the season had just passed.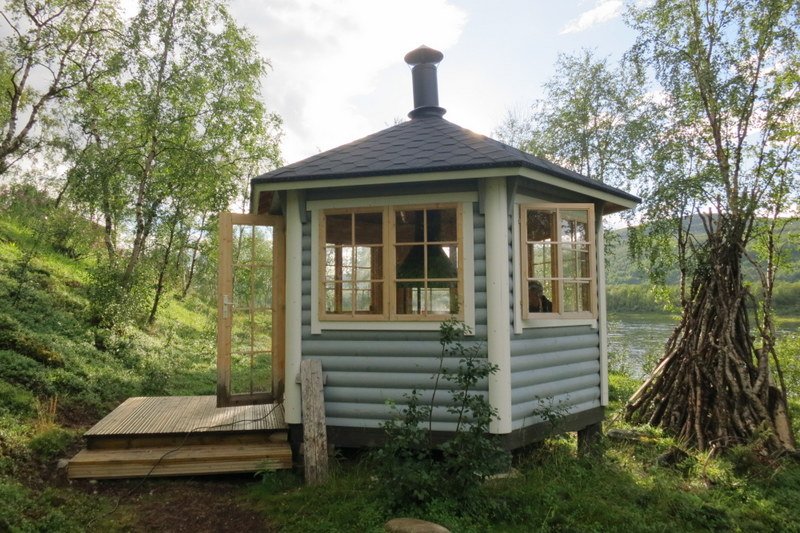 In the evening we grilled sausages inside the gazebo at Aurora Holidays (see the photo gallery), sipped beer, and went inside for the sauna. A dip in the river in between sauna times was an option – yes, even or especially in winter – but I chose to simply sit outside in the chilly night air.
Tiina told us much about local Sami culture  – her husband is Sami and a reindeer herder – and we sat like old friends around the fire exchanging travel stories. The final night of our stay, she brought out a surprise. Inside the gazebo she revealed a long purplish lump of meat. I cringed as the dark color made me think of an organ of some sort, maybe a liver or a heart. In fact, it was reindeer meat. She also had a large filet of half of a salmon. She fastened the fish to a cedar plank with a special metal strip that held the filet in place. Planted upright, the plank leaned over the side of the fire where it would cook slowly for about 40 minutes. The reindeer she cut into large portions for each of us. No marinade, no seasonings, just grilled meat and maybe a dash of salt. She served it medium rare and it was indistinguishable from a fine, tender cut of beef. We toasted with shots of salmiakki (salty black licorice) liquor, a flavor peculiar to the Finns.
The grill offers warmth but in the winter some electrical heat helps keep the gazebo comfortable. Besides chasing the Northern Lights, activities include snowmobiling and dog sledding.
Arriving in Utsjoki is no easy thing but such is the cost of truly getting away from it all. Buses do run daily on a route between Sodankylä and Utsjoki (with a stop at the airport in Ivalo) but in many cases they are as costly as a budget airline flight. Flights between Helsinki (HEL) and Ivalo (IVL) are operated by budget-friendly Norwegian Airlines and not-so-cheap Finnair (compare here). Car rentals are available at Ivalo airport as well.
See more from our Finland Trip
More enticing photos from Tiina and Aurora Holidays: