Going to Busan from Seoul by KTX High-speed Train
Busan (pronounced more like P with the heft of a B) is South Korea's port city, a good jumping off point for the ferry to Japan, but also a destination in its own right. The beach here is very nice, and in a non-beach sort of country like Korea that means crowds like terra cotta weekend warriors staking out every inch of the sand in rows when the season is right. Busan is also host to a big-time international film festival in October. The hotel zone along the beach is a mix of Korean and international touristy sorts of bars, restaurants and clubs.
Heading to Busan for the weekend? Consider the KTX high-speed rail. Trains depart from Seoul Station on Line 4 and make the run in about 3 hours.
Be aware that when you get off the Line 4 subway, you might face some challenges if you have luggage that you don't want to carry up and down steps. Korean subway stations aren't big on escalators a lot of times, and the elevators can be tricky to find. There is signage for it (not to be mistaken for the very similar restroom signs) but it may be an inconvenient walk 100 meters in the opposite direction. At this particular station once you go up one floor from the platform, you wind through shopping areas until you come to a ramp alongside the steps. There is one more set of stairs before you get to Seoul Stations depths where escalators take over. But at this particular staircase there is no ramp or elevator – just the wheelchair lift that rides the handrail up the steps. My best advice? Lift with your knees.
Inside the station is very clear. You will see the check-in windows where you should take your reservation printout (which you did online and either at your hotel's business center or at home before your trip) and your passport. You'll get your boarding pass. If you have time, there are plenty of places to eat around here, mostly fast-food, Korean and Western stuff, ubiquitous coffee. McDonald's has WiFi.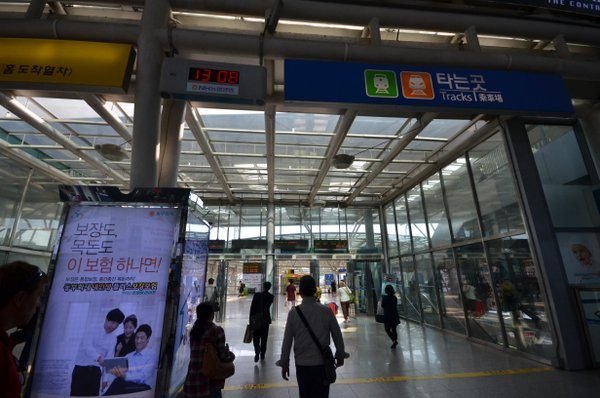 Enter to the train boarding area, crossing that yellow line that says only ticket holders may pass and that you are on your own to police that because "we trust you." Cute.
Platforms are clearly numbered 1 to 14, escalators descend to each. At 14 where I was to go that day, both escalators were coming up. There is an elevator behind you if you don't want to take the steps.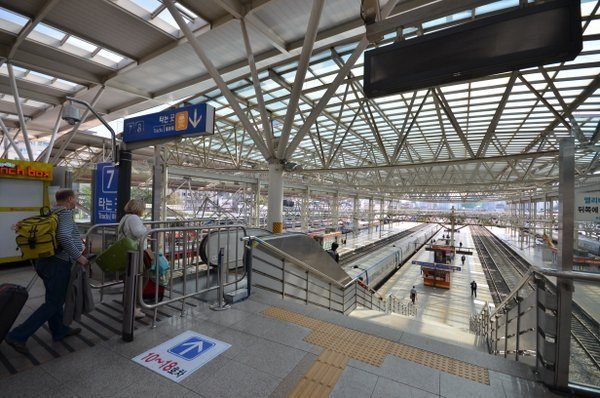 On board the train is not as spacious as the Shinkansen in Japan, nor quite as clean when I used it. Seats in reserved economy class were two to a side and about $18 USD cheaper than first class. Refreshments are for sale by an attendant with a cart, but you can bring your own on. Store big suitcases near the doors.
Now here was my pleasant surprise. Free WiFi. That's right, I surfed, worked, and emailed for the three-hour ride through lovely Korean countryside to Busan. Oh, sorry, Shinkansen, that's KTX for the win! Extra elbow room be damned.
Search Agoda.com for Special Deals on Hotels in Busan
The train arrives at Busan station (with just a few stops along the way) where you can transfer to Line 1 of the Busan subway system. This is 7 stops from Seomyeon Station and 22 stops from Haeundae Station where the beach and touristy zone is.
Busan subway fare machines cannot take 5000 and 10000 won notes but nearby change machines gives back 1000-notes. It's about 1400 won for a ride. Be aware that taxis are rather cheap here (I spent about 8000 for a half-hour ride across the city) and they accept credit cards generally (be sure to confirm as some drivers loathe them or they are broken, or or or…)
Busan not your final destination? Find out how to take the ferry to Japan from Busan.