A Thai Beatles Cover Band – The Better at O'Reilly's Bangkok
There's nothing like a singalong, and The Beatles, having crossed borders a couple generations ago already, have been performed in all sorts of styles, instruments, and cultures (Andean pan flute covers of "Yesterday" anyone?) So it's not hard to rally a crowd around "Ob-La-Di, Ob-La-Da", especially when there's alcohol involved. But in Bangkok? Not what you might have expected.
O'Reilly's is an old standard in Bangkok, an Irish pub – yes, I know, you find one in every town – at the top of Silom Road, right under the Sala Daeng BTS station. Though it brushes up against some of the seedy/touristy red light side streets, it is not laden with "bar girls." The crowd does include the ex-pats and the locals who love them, but also young backpackers, hipster Thai, and after-work crowds. You'll find a good happy hour, a great trivia night, and The Better.
The Better is a Beatles tribute band in Bangkok, a Thai Beatles cover band, complete with mop hairstyles and matching suits. They even play the guitar models of the Fab Four (though "Paul" is notably not playing left-handed here). Doing Beatles covers in itself is a bit of challenge, especially beyond their early stuff when it evolved from simple pop rock to more complex arrangements and instrumentation, but The Better manage to do all that with a bit of creative guitar work and effects pedals. Never mind that they are singing in a language that's not their native tongue. They do a few tunes from Wings as well, "Band on the Run" and the like.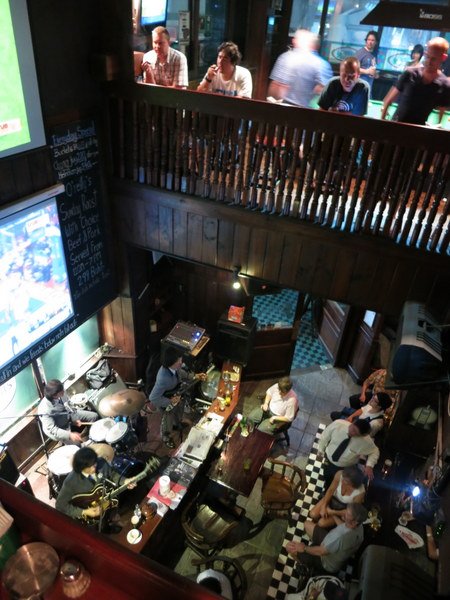 The stage is beneath a large square opening that rises up into the second floor where bar stools circle the railing. Two large projection screens show rugby, football/soccer, or maybe NBA basketball or cricket. Sort of an odd pairing with your Long and Winding Road. But when the band is on, everyone turns to the music and invariably starts singing their hearts out. It's infectious, and one of the few moments in Bangkok when that's a good thing.
Western fare and liquor are served and the tap beers include Guinness, Kilkenny, Harp IPA, and hard cider, as well as the usual regional brews (Chang, Tiger, Singha) and notably Beer Lao Dark in bottles.
So if you're looking for a place to come together with a little help from your friends, O'Reilly's on a Friday night from 9-midnight is a Bangkok experience you should check out.
O'Reilly's Irish Pub Bangkok
62/1-4 Silom Road, Bangrak, Bangkok, Thailand 10500
GPS: 13.728627,100.534126
Take the Skytrain to Sala Daeng Station or the Subway to Silom Station. Head down Silom Road, away from Lumpini Park, on the right side of the road.