Birds of Kenya: Photo Gallery – Page 2
Some will say Lake Nakuru National Park is one of the best for birding, but much of that praise is from the abundance of flamingos. Life-list birders should have better luck elsewhere (though this should still be on the itinerary for an afternoon on the way to Maasai Mara, for example.) The alkaline waters teem with flamingos as well as storks and other waders. But you can also see the rare black rhino and white rhino, as well as lions, ostrich, hippoes, zebras, and baboons.
Try as we might, this was as close as we could get to a lilac-breasted roller in Samburu. Lovely in the sun.
This is a sacred ibis, hanging out with some bigger critters at Amboseli. Elephants are so abundant there, they do actually border on mundane after a few days. You know who's been in the park too long when a person points right at an elephant and only sees "IBIS!"
I captured this stork in flight.
The yellow-billed stork lands in a tree just down river from us.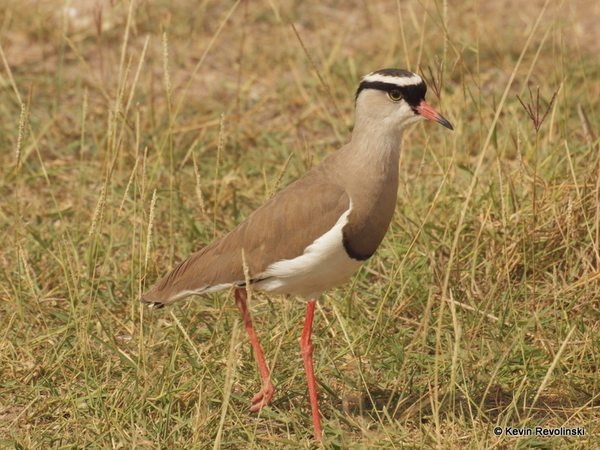 Abundant along the roads, the crowned lapwing makes a handsome photo. Amboseli and Maasai Mara had plenty.
Also a bit too common, the cattle egret isn't exactly a challenge for birders to find. But they are fun to photograph when they fluff up a bit.
This black-bellied bustard came out of the bush for me after Steve identified it by its call. With his Kenyan accent he told me the name. I half-chuckled and asked him to repeat and he did. Um, OK. I don't ask a third time out of some bizarre sense of embarrassment, but at that point I was still pretty certain he had said "bastard." Not a well liked bird in Kenya? Consulting the bird guide I found the error of my ear.
A kori bustard (not bastard as I had originally heard) in Samburu National Park.
White-headed Buffalo Weaver in Samburu.
There are several species of storks in Kenya. These two are woolly-necked storks which we saw in Amboseli.
Another sighting in Samburu, and though abundant and common, these are birds that I'm certainly not going to see back in Wisconsin.
We drove from tree to tree just to get a look at this bare-faced go-away bird. (Thus named for its call which sounds like a command to leave it alone.) This is the best angle we ever got. Clearly it really wanted us to go away. Don't miss the classic go-away bird clip on YouTube. 🙂
Go back to Page One of our African Bird Photo Gallery
Also see my photos of African hornbills
Going to Kenya for the birds? Be sure to bring a great field guide: