The Second Cheapest Massage in Bangkok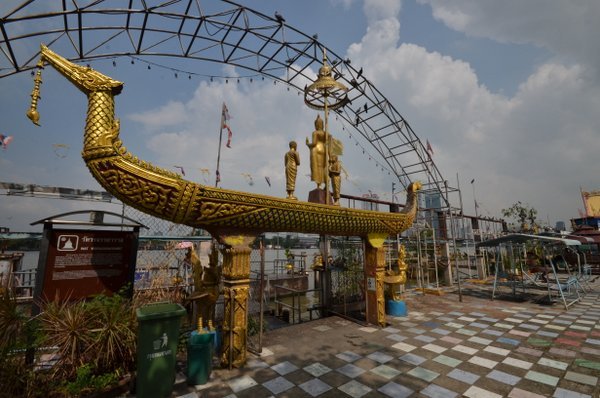 You could live a few lifetimes in this city and still find room for discovery. Bangkok is immense and constantly changing and even the beaten paths can cough up something you didn't expect.
I've taken the river ferries up the river from Central Pier (BTS Saphan Thaksin) to get to a variety of places – Wat Pho, the Grand Palace, the creepy Forensics Museum at Siriraj Hospital, the island in the stream Koh Kret. But I'd never ventured south from Central Pier. The boats and stops are fewer, but it's worth checking out.
For my wife's birthday I decided to book a Bangkok hotel and check in, five-star style, down by the Chao Phraya River at the Chatrium Hotel. (Found a great deal on Agoda.com, yes, they are an affiliate, and yes, I swear by them and use them often.) As great as it is to have a nice pool and a room with a view, I still get more pleasure out of exploring the everyday life.
Two piers south from Central Pier, just past Chatrium Hotel, is the first stop for the river ferry with the orange flag (the yellow-flagged ferry hits all three piers). We walked down along Charoen Krung Road a few hundred meters and found the alleyway to the pier and its temple at Soi 72.
The first thing that caught my eye was a massage parlor. A one-hour Thai massage for 100 baht? Seriously? That's pretty darn cheap in Bangkok where 200 baht or more is pretty common. We passed under a big pavilion with the Chinese-Thai fusion of Buddhist imagery underneath it and then came out by the river. (Watch your step: the soi dogs and the flocks of pigeons have this place pretty much covered.)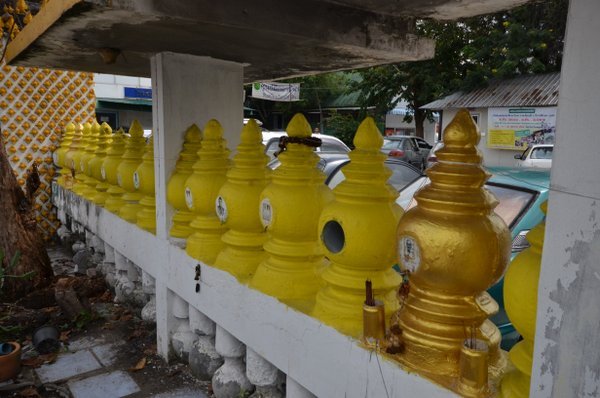 Some funerary urns line the wall of the temple, Wat Worachanyawat. In fact, a good friend's grandmother's remains are here. An image of a barge hangs above the entry to the pier. An old man behind us made a loud clap and the pigeons perched on it took to the air.
At either end of the plaza were two story pavilions with massage parlors inside. The first was only 80 baht. The second was 70! To paraphrase Homer Simpson when he was ordering champagne for Marge on a special occasion: "I'll have your SECOND cheapest massage!"
It was open-air and just hanging above the river. Buddhist murals on the ceiling gave me something to stare at as I got a pretty brutal foot massage. But, you know, 'brutal' in a nice way. This was local style and perhaps not up to Wat Pho massage school standards, but it was actually really effective (and a test of my resolve not to cry out. Deep breathing exercises. Focus through the pain.)
A ceiling fan and my own standing fan kept me comfortable despite the day's heat and humidity. More traditional Thai music, something I'm not to keen on normally, actually added to the ambiance.
Afterward we walked down Charoen Krung Road a bit farther, finding that the chic new riverside Asiatique was about a 12-minute walk from the hotel. Not bad at all.
We stopped for some street food. Fried bananas and a cup of gek huay, a yellowish iced herbal tea made from Chrysanthemums of Chinese origin. This stuff is medicinal, or so it is believed. It can lower your blood pressure (yay!), it can clean your liver (yay!), it can make you more alert (yay!), and it can make your bowels move (nooooooooooooo!). [Spits back into straw, sneaks a glance to see if anyone noticed.]
Not a tourist in site down here. For a cheap massage and an off-the-beaten path moment, this is an easy find right alongside the Chao Phraya River.
That Friday was the 17th procession (since the 1950s) of the Thai Royal Barges and from our balcony we saw the "cleaner" boats heading upriver en masse to try to skim off all the trash and the abundant foliage that dislodges from the banks and cruises to the sea.
How to Get Here:
Buses Nos. 1 and 15 pass by here (and there is a Free Bus 75). It might be about a 20 minute walk from Saphan Taksin BTS station and that would take you past Wat Yannawa, another place worth seeing.
GPS: 13.709274,100.506844 | On a Google Map
MORE PHOTOS from the day:
What gives with all the water bottles? The Thai believe this protects their property from the ubiquitous soi dogs who like to mark some territory. Does it work? I have my doubts.
Local boy getting his hair cut. The barber, when I asked if I could take the photo, said it was OK, but protested that she did not look pretty today. "Do I look pretty?" she leaned over to see. Of course! 🙂