Paddling the La Crosse River
Our Canoe Trip on the La Crosse River

Last weekend we finally hit the halfway mark writing my book Paddling Wisconsin. Number 20 of the book's 40 canoe trips was the La Crosse River, and it proved to be nearly ideal.
See my latest book on Wisconsin Paddling!
Good length, good current, good levels, great wildlife, maintained deadfall, and even a perfect path for running a bike shuttle for those with just one car. Before we put in I drove the car down to the take-out at County Highway J bridge just north of Rockland.
I left the car and got on the La Crosse River State Trail ($4 daily use fee) for a 6+ mile ride back to Sparta on a nice, level crushed limestone surface.
Our put-in point was in a city park in Sparta. Right away there are some low-level rapids and on a few other occasions some beginner level drops.
Old stone dams appear to have been partly removed over the years leaving the bottom row of stones. A bit of fun. The constant weaving of the river, frequent deadfall with the cut marks to show maintenance, and a steady current kept us engaged.
Right from the city park we entered a corridor of trees on a 15-25 foot wide stream right out of town. Hardly a visible sign of the human world, though we could hear some distant highway hum, an occasional train, and a fracking sand operation just outside Sparta.
Herons and kingfishers, naturally, plus an abundance of other birds.
Our first "wow" moment was seeing the live version of a sitting duck. We saw this little guy out in the middle of the river ahead of us. Looking back at us and wondering where to head for cover. As we came fully around the bend, I spoke up to Tip and I believe the sound of my voice was enough to cause the massive bald eagle that was not 20 feet from the duck, to suddenly veer off and head downstream. The duck never even saw it. Lucky duck.
When we finally overtook it, we got to see just how fast evasive maneuvers were. Note all the splashes are still up even as the duck leaves the frame.
Farther downstream we kept hearing a staccato psst sound which, on a previous river trip (the McCann River), I had theorized was probably some kind of frog along the river bank. This time the culprit showed its furry face.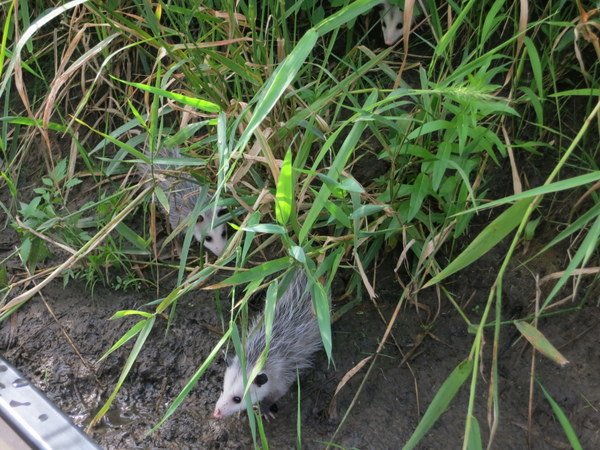 Or rather, their furry faces. A passel of joeys. (You can Google that: A passel of possums, and a young one is called a joey.) They fled into the grass but not so deep that you couldn't see them checking us out. I maneuvered the canoe into the soft mud of the bank, and as we sat there, they ventured back into the open to check us out.
One of them took some hestitant steps right up to the canoe and even put one of his raccoon-like hands on the hull like he was trying to figure out how to get in. After an extensive photo shoot, we paddled on. Farther downstream we saw two owls fly out of the underbrush in succession. Fairly close and totally awesome.
Tons of wildflowers on this stretch. Including arrowhead (shown here), cup plants, coneflowers, and swamp milkweed.
Some of the fallen trees have been around long enough to become their own islands of grass and other plants.
Sometimes the path around the fallen trees…
…is actually best under the roots.
A paddling paddle gathers no dragonflies.
We were on the water not more than 3 hours and the constant trees along the banks offered occasional shade and constant shelter from a breezy day. And the final bonus of paddling this stretch? Right down I-90 is La Crosse, where we stopped in at Pearl Street Brewery for a celebratory beer or two.
After 40 Wisconsin canoe trips, the field work for this book is done!
All photos in the post by Preamtip Satasuk.