Hiking Wisconsin – A Guide to Wisconsin's Best Hiking Trails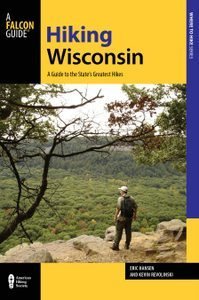 Find the best hikes in Wisconsin with the latest Hiking Wisconsin by Kevin Revolinski and Eric Hanson.
Hiking Wisconsin brings together 71 of the best hikes in the Badger State. Hike to hidden waterfalls in Lake Superior Country and along the Apostle Islands National Lakeshore or hit the trails of Black River Forest in Central Wisconsin. Venture along Lake Michigan in Door County or stroll amid the birder's paradise at Horicon Marsh. Pick your distance, from two-day treks along the Ice Age and North Country National Scenic Trails to short stretches to Parfrey's Glen or to a beautiful bog not far from Milwaukee.
The book includes:
Accurate trail maps
Comprehensive hike descriptions
GPS info for trailheads
Simplified mile-by-mile reference points and directional cues
At-a-glance info about time, distance, difficulty, dog permission, fees, best season, and more
A chart to help you sort hikes for different purposes (geology buffs, dog owners, hiking with kids, etc.)
Abundant text boxes relating fascinating information about history, geology and more
Each hike profile provides at-a-glance information to help determine the best path for the day. The dynamic range of the hikes makes this book accessible to all hiking enthusiasts, from families out for a summer walk in the woods to serious outdoor fanatics. This new edition also includes color photography. Order your copy today!
See a few photos from several of the hikes included in the book:

The North Country Trail is one of two national scenic trails in Wisconsin.
Another national scenic trail in Wisconsin is the Ice Age Trail. It will eventually stretch over 1,000 miles entirely within Wisconsin. Several excellent segments, such as this Blue Hills segment, are contained in Hiking Wisconsin
Not all the hikes are super long. Some of them, such as Ferry Bluff trail, are short and sweet with the payoff of an excellent view.
This segment of the Ice Age Trail skirts the shore of Lake Michigan at Point Beach.

Hiking trails in Wisconsin frequently shows signs of Wisconsin's glacial past. Here are potholes drilled by swirling rocks in glacial meltwater rushing past at the end of the Ice Age.