Our flight to Kuusamo from Chicago O'Hare meant a change of planes (and loss of a bag) in Dusseldorf, Germany and an overnight stay in Helsinki for the next flight north to Kuusamo. Waiting for us at the gate at our final destination was my cousin Irene; she had planned nearly everything for us, from meals and accommodations to boat rides and hikes in national parks. What followed was a ten-day, in-depth tour of Kuusamo and Lapland hosted by family.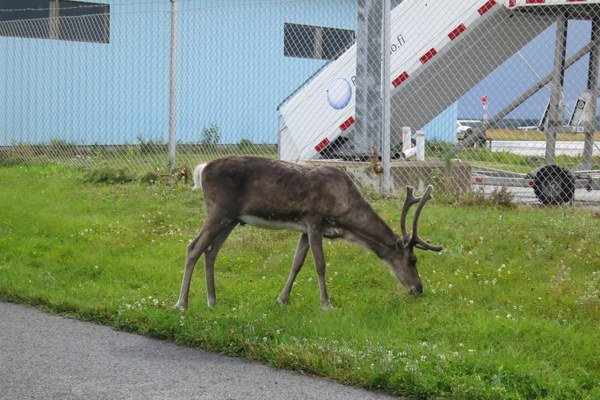 A frequent question we received during and after the trip was "Did you see any reindeer?" I can say we did not see any reindeer in Helsinki – other than in the supermarket. However, we saw our first reindeer before we even left the Kuusamo airport.
They are quite literally everywhere, even wandering into town. Reindeer herding is still a way of life for some, we'd find out later. By about the middle of the week we weren't even forcing Irene to slam on the brakes at the sight of one for the photo op. Other than this white reindeer, anyway. (Technically, piebald, not white. And not albino.)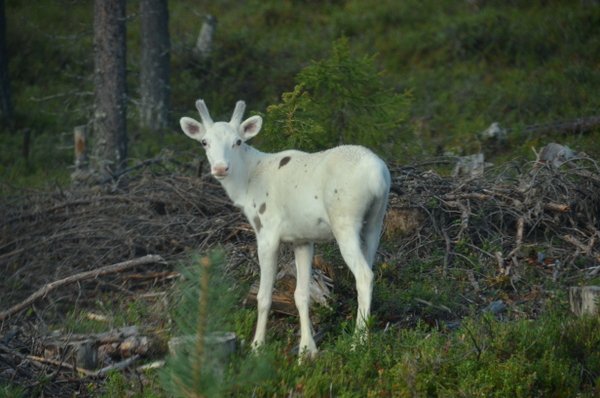 We had the benefit of staying in a family apartment in Kuusamo, having dinner with Tanja and Markku, Irene's sister and brother-in-law, in their home and at their lakeside retreat. I also had my first official sauna experience with them. (Sauna, food, and hiking posts will come shortly.) Then later in the week, Irene took us north to her home in a small village inside the Arctic Circle, and drove us even farther north when we began the journey all the way to the border of Norway.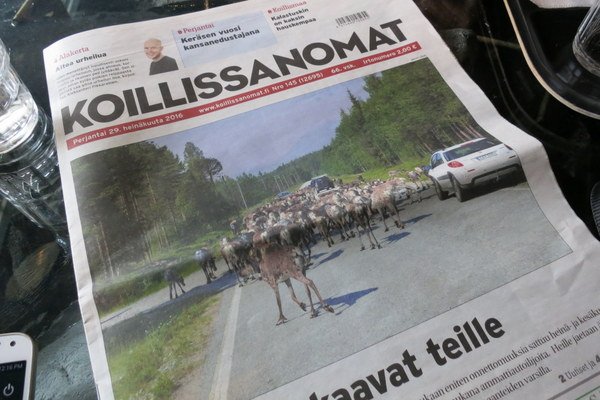 Slow news day: a reindeer traffic jam near Kuusamo
We had arrived in Finland in the late days of the midnight sun. The sun would set each night about 10:45 pm and rise again four hours later, and during that time one could safely drive a car without using headlights. By the time we reached Utsjoki all the way north, the sun set just after midnight and lingered beneath the horizon a mere two hours. We were careful to close the blinds or use sleeping masks each night. With the jet leg thrown in there for first few days, our brains had no idea what time it was.
In Kuusamo, out first visit was the Kuusamo Outdoor Museum, which offers a recreation of an early 20th-century village. The buildings looked so similar to those in the old photos of my great-grandparent's farm in Wisconsin as did the household items inside. Walls insulated with newsprint, a loom, cooking utensils, simple furniture, an antique sewing machine. My great grandmother would have grown up in a similar house. But as I was warned, there would be nothing to see in that regard: the original homes had been burnt down during World War II. Whole villages. I had heard as much from my grandmother, and this accounted for the lack of historical records and old photographs from the Finnish side of the family; much of it had hastily gone up in smoke. But it wasn't the Russians who had set fire to everything; the Finns had done it as they fled farther west from the nearby border, so that the Russians would have nothing when they arrived. So it was with fascination that Irene looked through all the old black and white photos I had of life in Wisconsin in the 1910s and 1920s.
For a bit of historical context, Russia annexed Finland from Sweden in 1809, but the Finns had their own parliament by 1906. Soon after the Bolshevik Revolution in Russia in 1917, Finland declared independence, endured a short civil war, a brief monarchy under a German prince who never set foot in Finland, and finally became a republic in 1919.
Hanna, who had left for America in 1905, missed all of this. She also had the good fortune of missing two world wars. During World War II, her brother Ville worked as a border guard near Teeriranta. The village of Teeriranta had evacuated and moved 20 km west, and other moved even as far as Oulu on the Gulf of Bothnia, that northerly stretch of the Baltic Sea that separates Finland from Sweden. But Ville and others stayed behind to monitor the Russians and to help take in the hay around Teeriranta.
Ville's daughter Hilma didn't much care for the move and wanted to return to their village and see her father. She sneaked away from the rest of the refugees and walked the 20 km alone back to Teeriranta. She remembers she could smell the smoke from the cigarettes of the Russian soldiers out hidden in the woods. Other kids tried to go home as well, but got caught and sent back by the men at the village. But Hilma, undeterred, ended up spending two summers hiding in Teeriranta so she could be with her father.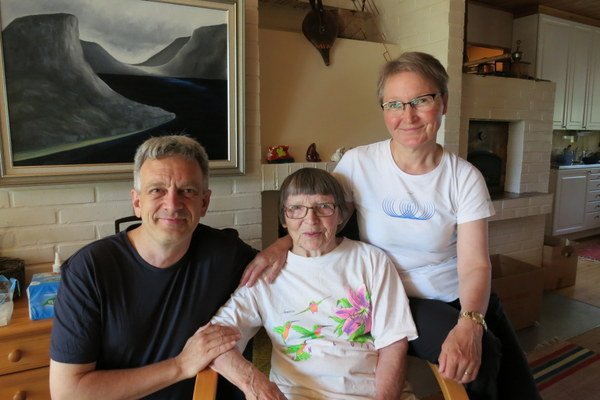 Irene took us to meet Hilma, and to see her country home where at the age of 85 she still lives independently. She loves to fish (as did her cousin Eva, my grandmother) and her family needs to watch and make sure she doesn't sneak out and take the boat out on the lake. She's a powerful little woman and we all had a good belly laugh when Markku told us the story of a black grouse, as large as a turkey and twice as aggressive, that crashed through a window in Hilma's house. Hilma battled with it, chasing the bird through the rooms and finally pinning it with a dining table before wrestling it outside to the steps where she had to break its neck. Weeks later at a doctor's visit for a physical therapy consultation after a fall she had taken, Hilma sat impatiently as the doctor asked her what her hobbies were. She didn't really want to be there, so she just shrugged and said, "Killing birds with my bare hands." Stunned the doctor turned to Markku who had driven her to the appointment. Markku could only shrug and nod.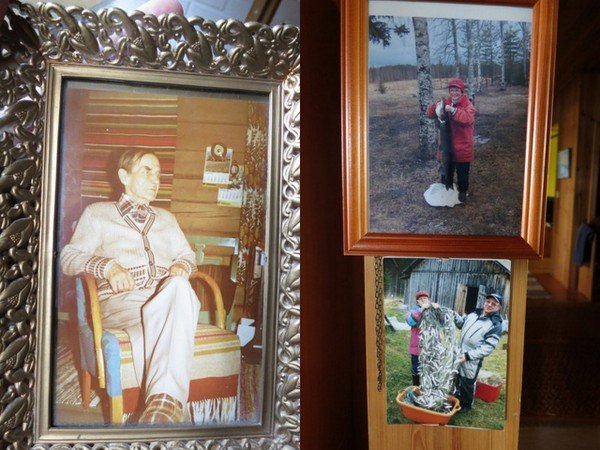 Around her living room and kitchen I saw various photos of Finnish family, many in the familiar Wisconsin pose with their biggest landed fish, and a late 90s photo of Grandma Eva as well. Hilma had been to visit her cousin Eva in Wisconsin back in the 1980s.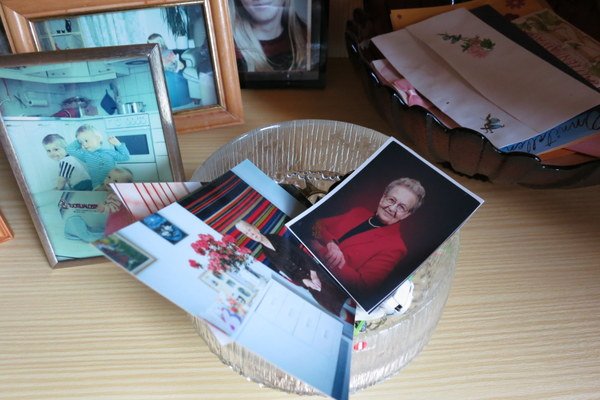 I remembered Grandma's trips to Finland around that time as well. She brought us back reindeer-hoof door decorations and tales of reindeer blood pancakes. While that sounded disgusting to me, I was still young enough to be fascinated by the fact that reindeer actually existed, though they were disappointingly flightless.
Hilma and Irene served some juustoleipää, the flat baked "bread" cheese. I had seen it first back in Madison, being fried on a skillet, and sold at the Dane County Farmer's Market. At that time I called my grandmother to ask if she knew what it was. "My mother used to make that all the time in the oven. We'd put it in our coffee to heat it up again so it would squeak when you ate it." I never imagined I'd partake in the same coffee-cheese ritual years later and over 4,000 miles away in Finland. The coffee indeed brought back the squeak and we also ate it with cloudberry jam, a Finnish favorite, and as we'd find out, a coveted berry for foragers in July and August. Soon we'd go looking for them ourselves.