2017 in Review: Travels, Reads, and Music
TRAVELING
Another year behind us, and my third passport is one year closer to expiration (2023). Which will run out of pages first: the calendars or the passport? We stayed closer to home more often in 2017 (by my own skewed standards), but I still managed to make several trips abroad, including twice to Thailand, Taiwan, Vietnam, Japan, South Korea, and adding three first-time countries: the Dominican Republic, the Philippines, and country #70(!), India.
Vietnam

My goodness, Saigon. Where are all your lovely boulevard trees? I got to see workers making way for the new metro/subway train system, and I am fairly certain that I ate a bit of history — drifting clouds of sawdust and me eating a bowl of street food on the sidewalk. An education fair brought me back to Ho Chi Minh City for a catch-up visit with Nomadic Notes James, some amazing craft beer at Heart of Darkness Brewery, and the usual favorite banh mi of the street.
Japan

Japan. I ate whale. There, I said it. I didn't order it, but my lovely hosts took me to Ameyayococho market for street food, and as they brought out plates of increasingly exotic sushi (Really? Shark heart? Why?), one of the plates held a tiny portion of what looked like raw tuna and pieces of lard. I had a piece of flesh and blubber. Not terrible, but I still can't see the point. Why? The faces of my hosts dropped when they watched me looking at the plate, and one said, "Oh… you look so sad."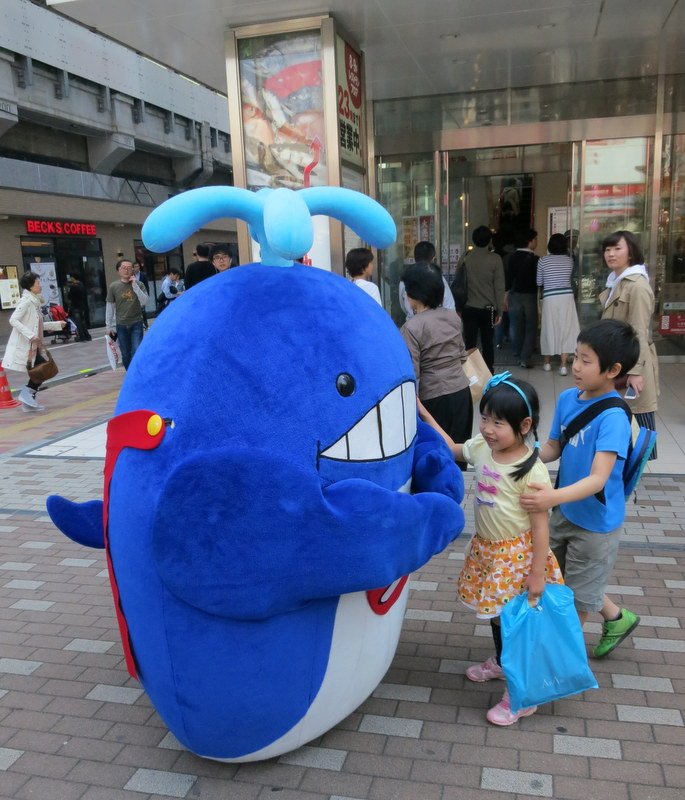 Moments later, walking in the street, we came to a whale-costumed mascot. I've also been on an excellent Okinawa whale-watching tour with hordes of enthusiastic Japanese tourists in Okinawa paying to see the amazing humpbacks. I can't understand.
Thailand

In our ongoing 11-year quest to visit every place worth visiting in Thailand, Tip and I can now check Koh Kood off the list. The island, closer to Cambodia than to Bangkok, is one of those few places that hasn't yet been overrun with hotels and tourism, and it requires a long drive and a ferry trip out of Trat. And while this second attempt to visit Trat Province had one hassle with a major power-trippin' arsehole at a traffic stop/immigration checkpoint, the trip was otherwise fantastic and nothing like the rental-car-crushing attempt a few years ago.
The Dominican Republic

The Dominican Republic trip focused on eco-adventure along the north coast, the highlight being a whale-watching excursion where we heard the song of a male humpback. Unforgettable. Also got in a wee bit of wave boarding which I haven't done since I lived in Panama back in 2003. With a five-year-old's reckless abandon. Awesome.
The Philippines

The Philippines trip was pure joy. I hadn't been diving for a long while, and at a dive resort on the island of Southern Leyte, I got under the waves 16 times and saw some amazing critters, including an octopus, shark, and countless colorful nudibranchs. This was some of the healthiest coral and aquatic life I've ever seen, and I've got about 18 minutes of scuba video to show for the effort. I just couldn't edit it down from there. Too much to see. What would I edit out?
India

I finally broke the 70 mark on countries visited with a stunner. You either love it or hate it, I am told. India. I went expecting not to care much for the place. Overcrowding, pollution, hawkers, poverty, chaos… an abundance of things that weigh on me. But while I can't as yet say I love the place, I confess it won me over. After 70 countries, and a bit of "oh, I've seen it all," I found myself constantly blurting 'oh my god' and cranking my head around at one thing or another. All day. Every day of the trip. And the photography? So much color, so many striking faces, engaging scenes. I was there primarily for a tiger safari experience (which was extraordinary), paid a visit to the bucket-listed Taj Mahal, and saw some prehistoric cave paintings.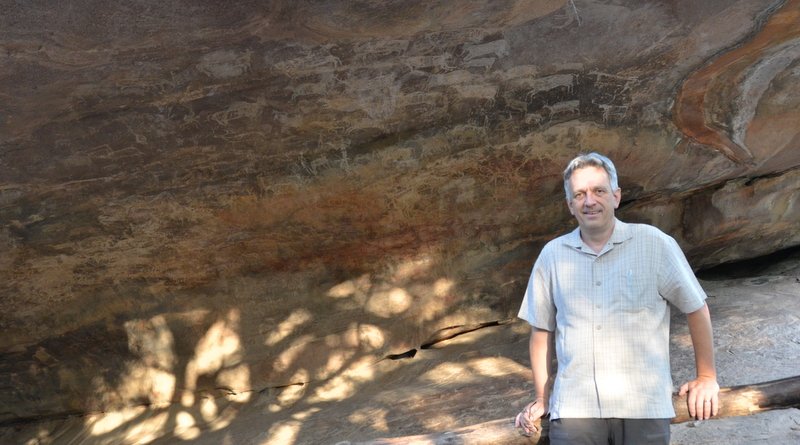 But as we rolled down the highway between national parks, another photographer and I did some "drive-by shooting," gathering bursts of nice shots I'd have to credit to amazing India and my camera with its high-speed settings. I will surely go back again when the opportunity arises.
Astronomical Sights

And while some might consider it a different country, Missouri and St. Louis made the travel list when we drove south to catch the solar eclipse. (Adding a visit to the National Blues Museum and the impressive mounds of UNESCO World Heritage Site, Cahokia, just over the border in Illinois.)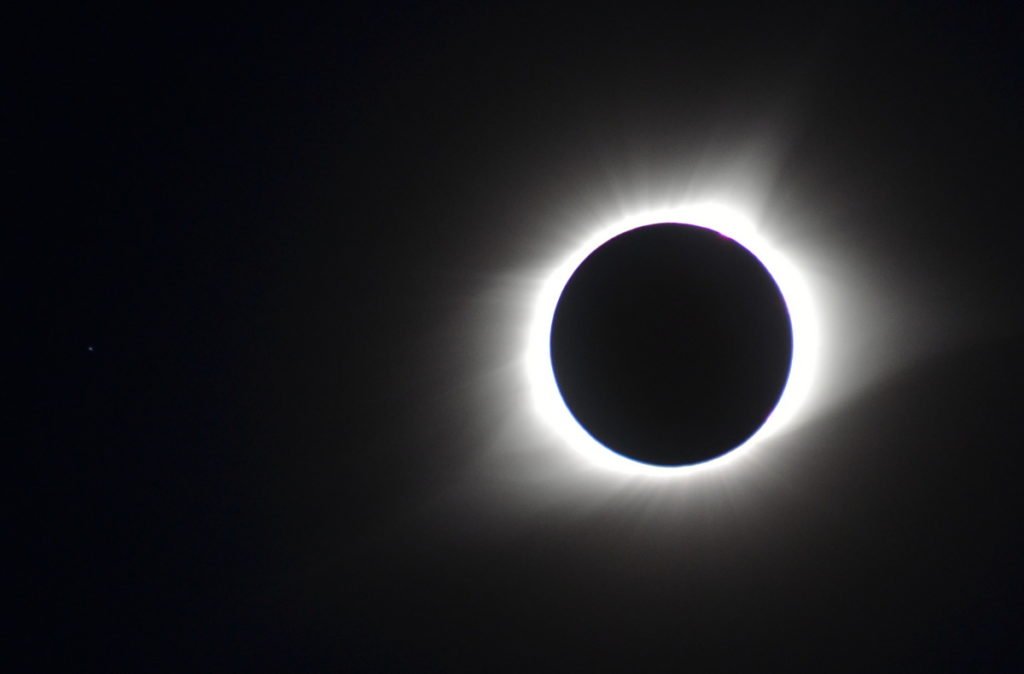 READING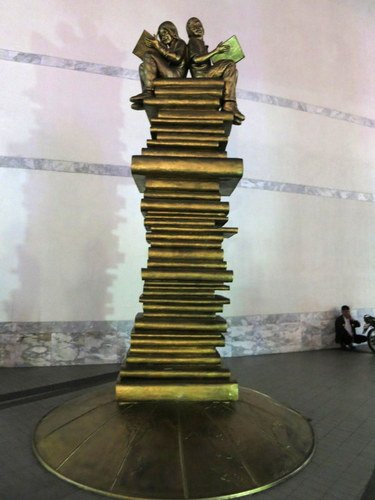 Once again I managed to reach (and exceed by one) my annual goal of 52 books read. The best of the 53?
Astrophysics for People in a Hurry (Neil deGrasse Tyson)
The cheeky PR person for scientific thinking pens a fun, funny, often mindboggling, sometimes challenging summary of what you ought to know and appreciate about the Universe and your little place in it.
1Q84 (Haruki Murakami)
Finally a brick of a novel from Japan's cult-followed Nobel hopeful. It doesn't quite live up to The Wind-Up Bird Chronicle, but it's at least in the neighborhood.
The Hearts of Men (Nickolas Butler)
The second novel from Wisconsin's own international bestseller. A great read partly set in summer camp in the Northwoods.
The Refugees (Viet Thanh Nguyen)
In a year of many short story collections coming up, er, short, this was a welcome break from what I think of as the non-story trend.
The North Water (Ian McGuire)
A whaling ship trapped in Arctic ice, the brutality and duplicity of men, human endurance in a harsh world. Quite a thriller.
Sapiens: A Brief History of Humankind (Yuval Noah Harari)
Some really fascinating thoughts on the primates with the most tools and how they acquired them.
Ready Player One (Ernest Cline)
A somewhat lamely written but oh so effective use of 80s nostalgia in a cyber-universe centered dystopian future. Loved it. Started playing arcade games again because of it.
Giovanni's Room (James Baldwin)
An excellent character driven novel that had to be shocking back in the day it was published.
Running in the Family (Michael Ondaatje)
Not your typical memoir. Unreliable narrators and piecing together memories, with the always masterful and poetic writing of Ondaatje.
I encourage others to keep that literate muscle strong and set a realistic but challenging goal for 2018, either on GoodReads or your fridge door. "Reading is to the mind what exercise is to the body." — Richard Steele
WRITING

No new books in 2017, but I did manage to get a short story published in a fiction journal, which meant a great deal to me. It's been years since I'd even tried, so it was a nice bit of encouragement as I try to return to some fiction writing. I have plans but the worst thing for them is to talk about them. But definitely expect the 4th Edition of Wisconsin's Best Beer Guide. It just keeps getting bigger and I can barely keep up!
CONCERTS & MUSIC
Bucket List Show: With an old buddy, I went to see Joe Jackson. Look Sharp! and I'm the Man were go-to albums in college. "Is She Really Going Out With Him?" had me hooked in middle school. The band was tight, and still featured original bass player Graham Maby. Another unforgettable show, spanning Jackson's entire career including the most recent album Fast Forward which lives up to his reputation.
Still kicking myself for skipping the two Tom Petty shows at Summerfest. Have I learned nothing from turning down a last-minute ticket to Stevie Ray Vaughn's final show before his helicopter crash at Alpine Valley? Finally got to see Counting Crows, a 90s favorite. Bought tickets to see Postmodern Jukebox, then found out that many of the singers in the various YouTube videos aren't necessarily on the tours and got worried. But the show was absolutely fantastic. Great talent and great entertainment. Made to the 5th Mile of Music in Appleton, so many performers, all original music from all over the state and the country. Mark your calendar for August. Robert Randolph and the Family Band came to Madison as usual, only this time I managed to get to the show. Great steel guitar.
Filled in for a bass player recovering from a scary bout with a flesh-eating virus, and did a show with Chris Head and Honchos at Steel Bridge Songfest in Sturgeon Bay. Made it through my first and only upright bass performance during an ACLU benefit at High Noon Saloon, backing local talent Amber Sebastian for a few songs. Bought a Yamaha DGX660 digital piano, and now daily alternating between YouTube-learning some songs and noodling around on a Telecaster. Music soothes the anxious soul.
LOOKING FORWARD
So 2017 turned out pretty well despite it all, but I'm going into 2018 ready to make hay. Hey! A new beer guide, a possible paddle guide for Madison, trips already planned for Namibia, Taiwan, Japan, South Korea. Another 52-book challenge. Aims to get out and play more live music. New writing regimen to coax some fiction out of me finally. More of what's good and a better appreciation for all the unearned luck a person has in a lifetime.
Please follow along here or on Facebook, and whenever you have a chance, please use the various affiliate links throughout my site when you're shopping online — the Amazon link, as well as CheapoAir, Booking.com, and such on my Travel Planner page — and thus throw a quarter into my busker's jar. Greatly appreciated!