Helsinki Eats: Finnish Food's Coming of Age
A few years back, Italy's former prime minister Silvio Berlusconi infamously derided the Finns and their "marinated reindeer" cuisine. In a swift response, Finn pizza chain Kotipizza rolled out the Berlusconi: a pie topped with red onions, chanterelle mushrooms, and, naturally, smoked reindeer. The pizza went on to win the America's Plate International pizza contest in New York in 2008. An amusing anecdote but also a rather symbolic example of how quickly Finnish cuisine has adapted in recent years. While some have described Finland as a meat-and-potatoes culture, Helsinki is leading the charge to change their reputation. From modern to traditional and from international to fusion, Helsinki offers a culinary playground that has only recently started getting serious international attention.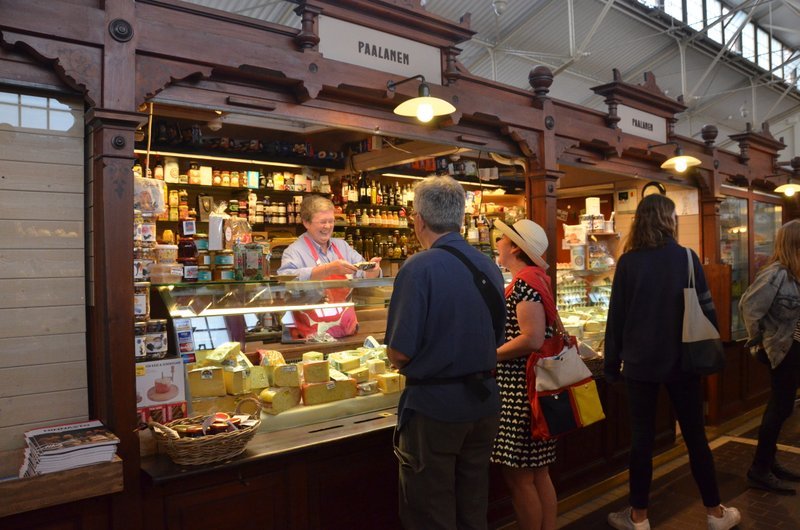 I spoke with Helsinki guide and food expert Heather Domeney and joined her on a visit to Finland's famous 1868 department store Stockmann. The lower-level delicatessen at Stockmann provides the city's best collection of baked goods, cheeses, charcuterie, seafood and other varied delicacies. "It's incredible how far Finnish food has come in the last ten years. Not just Finnish food, but what's available in supermarkets." We stroll amid deli counters filled with salted salmon and smoked herring, sample locally produced artisan cheeses, and pick up cardamom-laced pastries from the bakery section. I snack on a Karelian pasty, a Finn staple, a palm-sized, fluted rye crust with a rice filling and served with an egg-butter topping. "When I came here in 2001, the fresh herbs available were dill, chives, and basil," says Domeney. "But there's been a huge expanding of what is actually grown here year round."
Lapland, the northern region of Finland reaching deep into the Arctic Circle, is known for reindeer herding and wilderness, and the game meats – reindeer, elk (moose), and even occasionally bear – make it into stores and onto the menus. At the markets look for cured reindeer or jerky. In the restaurants, beef lovers will be amazed at — or even fooled by — the lean and tender reindeer steaks grilled to order. Reindeer strips served over mashed potatoes with lingonberry sauce is a standard.
Vegetarians should seek all the seasonal goodies such as wild mushrooms. "Have you heard of 'every man's rights?'" asks Domeney. I hadn't and feared the conversation had moved to politics, but this is the custom, she tells me, of going into the forest and foraging. Finns search for wild mushrooms, such as chanterelles or morels, and count the months according to the berries: first the cloudberries in July, the blueberries of August, and the tart lingonberries of September. Finns are generally fond of their pristine forests and foraging excursions are a national pastime. Don't be surprised to find these "every man" products at the markets or even on your plate at a restaurant.
The Markets
Head down to the waterfront market where food stalls line the quay daily, serving fried fish, salmon soup, sausages, and more. Dating back to 1888, the Old Market Hall, also along the quay, reopened in 2014 after some preservation work. The indoor market offers to long hallways lined with vendor booths and a few cafés. On offer is a wide variety of gourmet food products ranging from fresh cheese, charcuterie, and preserves to coffee, pastries, soups, and other meals. Look for cloudberry jam or cured game meats. Either inside or outside, this waterfront area is a nice place to get a reasonably priced bowl of another Finnish staple: salmon soup. The creamy soup is hardy with potatoes and large tender chunks of regionally caught salmon.
Situated a bit north from the port, a 1933 former slaughterhouse has become the latest food mecca in Helsinki. Teurastamo, known also by its English name, The Abattoir, has kept its historical look and is gradually being taken over by hip new venues, primarily dedicated to food. The Abattoir's summertime Thursday markets offer food carts and fresh produce at a farmer's market. Cooking classes onsite inspire people to spend more creative time in their kitchens, and DJs and live music give the place a lively atmosphere. Stop in at one of the several restaurants for lunch or dinner, with menus ranging from traditional to fusion.
For about a dozen years only, Hietalahti Market Hall dealt in antiques, but Helsinki's second oldest market, built in 1903, returned to its original purpose again in 2012: a food market. (Though there still is a popular daily summer flea market just outside the front doors.) Many locals come here for the fresh market ingredients but there are also plenty of dining options for lunch among the 119 shops inside. Stop in for a bowl of soup at Soppakeittiö. Other shops serve everything from fresh shrimp and sushi to kebabs and hamburgers. Korean street food, smoothies, imported cheeses are not uncommon and with a rather liberal policy for new vendors who come and go, you really don't know what you might find here each week.
Taking it to the Streets
Kirsti Tuominen, a former Nokia employee and now a promoter of Helsinki's food scene, helped found Restaurant Day. Officially, it occurs four times each year and, with a nod from government, allows anyone who loves to cook to open a restaurant, café or simple food stand anywhere in Helsinki without all the red tape and permits that are required for a brick-and-mortar restaurant. The first event in 2011 was such a huge success that the practice has spread to over 60 other countries. Walk along Helsinki's lovely Esplanade Park and odds are good you may see an amateur chef with a home-styled setup serving grilled food or ethnic dishes.
Finns don't fear the chill. In March they celebrate food carts at the internationally recognized Streat Helsinki festival, which draws dozens of juried street vendors and over 30,000 hungry fans. In addition to the eats and some open-fire grilling, the event also hosts workshops.
Award Winning
From Thai food to tofu, from gourmet porridge cafes to craft brewpubs, the dining scene in Helsinki seems to cover all the bases. But one must also note that the Michelin Guide has taken notice of Finnish food. In 2015 the esteemed restaurant guide awarded stars to five city restaurants. One of these is Chef & Sommelier, which offers only a few tables, so reservations are essential. The restaurant is noted for its multi-course gourmet creations that offer modern takes on Finnish tastes and often incorporate wild foraged foods from the nation's endless forests and fields. The chefs themselves bring the dishes to the table and talk passionately about the flavors, local ingredients, and methods of preparation. Additionally, the wine list is excellent and offers flights to pair with each course. For a very personal dining experience, this is that splurge meal you've promised yourself and one of many that will make your time in Helsinki unforgettable.
See blog posts about our Finland Trip, particularly the post about Finnish food!