Yangon Architecture Photos
Yangon's City Hall was designed by a Burmese architect who combined several motives of Burmese architecture.

The Strand Hotel has its colonial shine back on.
The post office dating back to 1908.
A fresh coat of paint goes a long way to making Yangon look fresh and UNESCO-worthy.
A mosque near Sule Pagoda.
The port authority building in Yangon.
Right in the center, close to city hall, is Sule Pagoda.
The race to development threatens to overshadow some of the historical character of Yangon.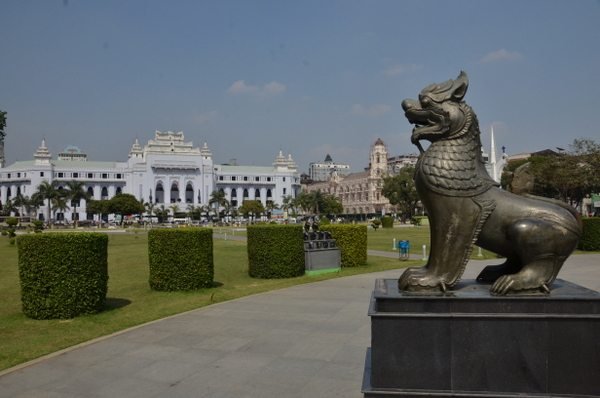 Yangon City Hall as seen from Maha Bandoola Park.
While new buildings are popping up around the city, this new temple could fit right in on the plains of Bagan.
The Secretariat is a massive, full-block of brick construction. This is a view from a nearby coffee shop on an upper floor overlooking the sprawling building.
The Governor's Residence, a 1920s mansion of teakwood, in what is now the embassy district, was reborn as a luxury hotel.

The High Court building near the center of Yangon with its fine clock tower is half a block from city hall, also next to Maha Bandoola Park.
The old railway office building is a very large brick construction that had fallen into decay but will become part of a modern complex that includes shops and high-end condos.
Another view of the railway office building.
While many of the old colonial buildings had famous names or purposes, some of them blend right into old neighborhoods, partly forgotten.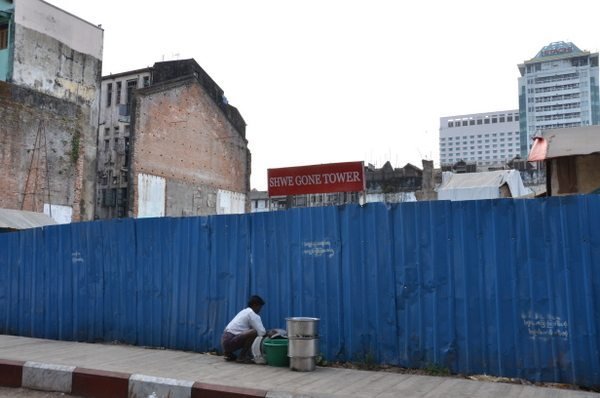 A coincidental English transliteration from Burmese is humorous but also a warning about the fate of many old buildings should the Yangon Heritage Trust not prevail in preserving them.
Mother Nature is not perturbed and goes about her patient business of reclaiming what humans have erected.
Read about Yangon's colonial-era architecture and what's being done to preserve it.