Photo(s) of the Week: Semana Santa in Guatemala

Truth be told I had to go to the vault for this one. I've been in Asia so often and so long that Easter/Semana Santa often sneaks by without my noticing. I was completely aware of Earth Day, but in a land so dominated by Buddhism, Easter doesn't get much coverage. (As opposed to Christmas which because of its heavy commercial element, the shopping malls here in Bangkok beat one over the head with it throughout December.)
So back I go to Guatemala where the week long events include processions through the street. One of the most beautiful elements of this celebration is the practice of making sawdust "carpets" or Alfombras de aserrín. Colored sawdust is laid out in the street in intricate patterns similar a bit I suppose to Tibetan Buddhist sand art or even Native American sandpainting. These Guatemalan creations like the others are destroyed upon completion, but in the case of the alfombras, the colorful patterns are dispelled by the feet of the processions.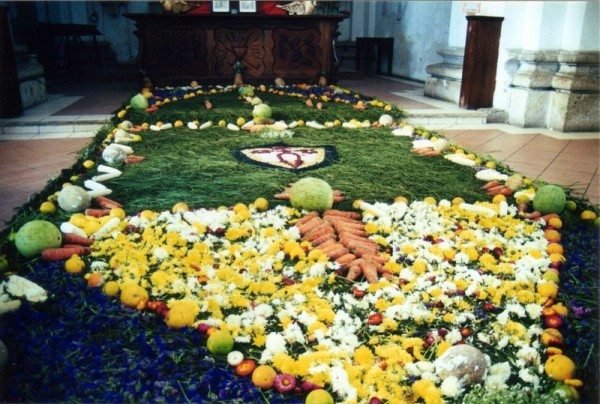 Both photos were taken in Antigua, but neither was in the street. The first is a sawdust carpet inside a church (San Sebastian, I believe) laid before a display of Jesus walking on water (complete with strobe lightning flashes). The second photo shows something a bit different from the sawdust approach. Here we have fruits and vegetables and even some pine needles. Both were shot with a Pentax K-1000 film camera. This makes me want to go back to Central America even more – to update photos and reacquaint myself with some marvelous places of which I have so many great memories.
______________________
Check out longer articles, photo galleries, and videos at my home site The Mad Traveler Online.