Opening Day of Summerfest 2011 (with photos)
Celebrating 44 years of great music, Milwaukee's Summerfest kicked off its 2011 festival on Wednesday. This is the largest music festival in the world. 11 days, 11 stages right down on the shores of Lake Michigan in Milwaukee, Wisconsin. I spent the day there and from an unscientific analysis I'd call eyeballing, I'd say the crowd this year was pretty big early in the day already. Part of that might be that the promotion for gate entry was to donate 3 nonperishable food items for free admission. Each day of the fest has some sort of promotion which is definitely worth checking out.
Hall and Oates may be a chuckle for some about 80s and feathered hair, but this old Philly duo is well respected in the music world for bringing soul roots to a long and successful pop music career. The crowd to see them was huge (and at times rather surly about trying to get a bit of standing room in the mob). No surprise for me, as I was a big fan back in the day. But what did impress me was the number of young fans — some were there with mom, others perhaps had discovered Hall and Oates on their own. But everyone sang along to a set list of greatest hits (plus one song only a serious fan would know – Las Vegas Turnaround).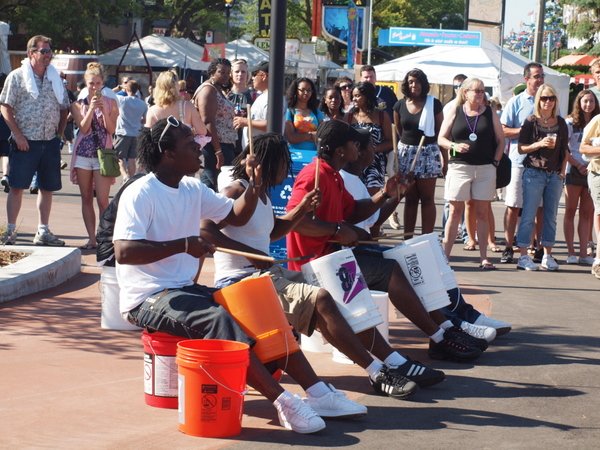 Magicians, jugglers and other performers appear throughout the Summerfest grounds. These pail drummers always had a big crowd and they appeared tireless as they pounded out rhythms like a machine gun.
Big sponsors make this festival possible. Each of the big dogs has their own stage. Harley Davidson sponsors a sort of roadhouse stage, primarily blues, but also a little display with their bikes. You can get on and "ride" one in place and feel the thunder of a Hog.
It's true Summerfest brings in a lot of big names in several genres of music, plus a lot of famous old timers who maybe no longer take on the 40,000-plus-seat venues. But the fest also showcases a lot of up-and-coming bands from around the country — such as the Nod, pictured here — in the afternoon slots.
Kalamazoo-born Chicago artist Jerome Holloway would be my pick for the best discovery on the first day of Summerfest. The singer/songwriter has a marvelous voice, soulful and light, reminding me of Sam Cooke — not that he sounds like Cooke exactly, but he has that charm and ease and the old-school mood of the Soul era. In his own words, he likes to sing about love. Great music to chill to with a bottle of wine on a stay-around-the-house date with your sweetheart.
The headliner for the evening was Peter Gabriel at the Marcus Amphitheater. His first appearance since 2003.
Peter Gabriel's tour was a bit unusual in that rather than the full band with synthesizers, electric guitar and the unique bass work of Tony Levin, he was backed by the New Blood Orchestra, which included members of the Milwaukee Symphony Orchestra on Wednesday night. Orchestra? Potential for boredom? Not if you're Peter Gabriel. His voice, his stories, and the visual production he brings to every concert won over even the "play-the-hits!" people.
Peter Gabriel ends his first set with one of his most powerful, most famous songs from his early solo career. Stephen Biko images look on as he rivets the crowd with the human rights call of "Biko." The song ends with the opening night fireworks booming just over the lake behind the Marcus Ampitheater.
Fireworks over Lake Michigan, an opening night tradition. Ironically, on July 4 this year, Summerfest will take the day off in the middle of the festival.
Hall and Oates may have peaked back in the late 80s with the album Big Bam Boom, but they've had success with critically appreciated albums on the adult contemporary scene. Daryl Hall has also gotten nods from Rolling Stone and the like for his internet show Live from Daryl's House where he chats, plays and even cooks with musical guests — some familiar, some newcomers.
Hall and Oates finished with two encores.
_________________________
Marcus Amphitheater Headliners for the weekend are Toby Keith on Friday, Jason Mraz on Saturday, and Kid Rock with Cheryl Crow on Sunday. My personal wish list is Fitz and the Tantrums (featured on Live from Daryl's House) and Maroon 5 on Saturday night, and Ben Harper on Sunday evening.
General admission tickets are good for all but the Marcus Amphitheater shows and cost $15 per day. ($8 on weekdays before 4 pm)