Hotel Review: Castle Inn Cappadocia in Ortahisar
If you come to Cappadocia looking to get away from it all, you might want to consider a location other than Göreme. This was my third trip to Turkey's incredible land of fairy chimneys, caves, and otherworldly landscape. I wanted to be out of the tour bus areas and find some peace and quiet, as well as some good hiking. That's how I found Suat Ulusoy and his property Castle Inn located in the nearby town of Ortahisar.
Ortahisar is quiet. You can hear your ears ring. No bars or discos here. This is how Göreme used to be back in 1998 when I first visited the area. Now Göreme is ground zero for the tourist trade. Plenty of hotels, tourist shops, buses, and restaurants serve the majority of the 3 million tourists that come to Cappadocia each year, ten times the entire population of the surrounding towns.
Ortahisar is named for the medium-sized fortress (hisar) carved out of a towering rock outcrop overlooking the town. The more familiar outcrop-fortress of the town of Uçhisar is a bit bigger and visible from the highway, but the complete lack of tourists at Ortahisar's made it more like a private tour. It rose above our hotel presenting sunset views and panoramas after about a 10-15 minute climb.
Suat Ulusoy is an experienced balloon pilot and he has flown Martha Stewart and royalty from Bhutan. Seeing the landscape here from a bird's eye view is one of the most popular activities for visitors. Suat's primary business is the ballooning, but he and a partner decided to open this little boutique hotel in Ortahisar.
Set in a 19th century Greek house, the renovated property is made to look like a medieval castle. Decorations and designs feature knights and dragons, including a custom-made wrought-iron dragon adorning the rail of the staircase. There are archways and a winding stone staircase to the breakfast dining area where a Turkish breakfast buffet is served each morning. A local artist's painting of a knight being knighted by a queen hung over our bed, and the room in the lowest floor occupied a cave.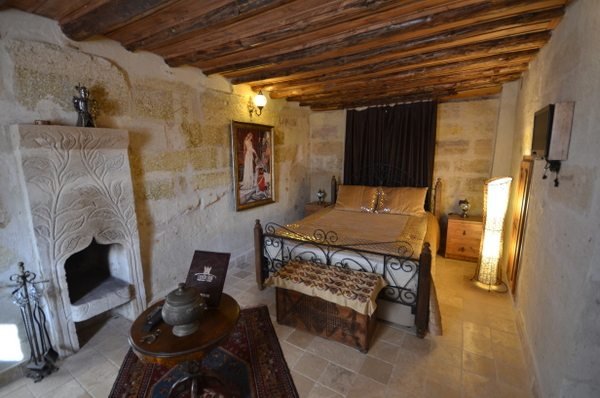 The fireplaces in the rooms are real, adding to the castle atmosphere, but some heaters imported from Scandinavia for both room and bathroom are more practical and prevent the chill that often plagues some of the cave rooms in Cappadocia. Despite the theme, it is, in the end, a modern hotel: WiFi, satellite TV, hair dryers, in-room fridge, and solar-powered hot water.
During the reconstruction, what could have been ten rooms was reduced to five. Thanks to the expanded room size, the bathrooms are bigger and some feature a Jacuzzi. But that also means fewer guests, guaranteeing a true boutique experience.
Suat tells me, "I am looking for friends not guests." And while that sounds like a good marketing statement, he sat with us for long periods, chatting about the area, his travels, asking about our own interests and experiences. Suat prefers the small town life. "Big city, big problems," he says. Originally from the Trabzon up on the Black Sea, he made sure his car shows 61 on the plates, the license code for the city of his birth. Those from Trabzon are rather proud of it. He told me of a time a driver behind him flicked his lights at him and pulled him over to ask, "What part of Trabzon are you from?"
Suat is also an American Civil War buff, having lived in Pennsylvania for several years. One morning at breakfast, his staff person Sami handed me an envelope. "Suat wants you to see this." Inside were photocopies from a former balloon client, copies of family letters wherein a great uncle who had fought alongside the client's grandfather in the Battle of Frederickburg tells of being wounded badly and receiving a visit from Abraham Lincoln himself. Suat meant what he said about making friends.
At dusk we sat out up on the rooftop terrace with tea and watched the sun sink into glowing horizon while the neighborhood swifts swooped and soared out in the space over the narrow valley before us. The second night, after a long day of hiking through the textured valleys outside Göreme, we returned to the hotel to find a Turkish couple using the hotel's barbecue equipment to grill up some lamb kebabs. The offered to share their dinner.
Around town, there isn't much but the locals. A few restaurants offer regional meals and you will be surrounded by the town people. One fine dining restaurant picks guests up from the hotel and offers a view of another valley and the fortress, part of a network of such valleys that are easily reached for casual hikes from the hotel.
For travelers looking to get away from it all, Castle Inn fits the bill. Prices are reasonable and Suat and his staff do everything they can to make you feel at home. Indie travelers will do fine here, but if you want guided activities, Suat mentions local contacts and recommendations but not in a pushy sort of way like a tout, but more like your friend.
Check out the rates at Castle Inn or see their website.
See photo galleries of Cappadocia on the The Mad Traveler.
More blog posts about Turkey as well as full-length articles about Turkey and my book about the year I lived there.