Have to Laugh in Shanghai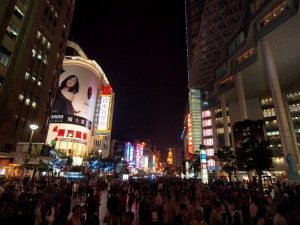 Back I go into the great circus of China. As the plane approaches Pudong International Airport, I only partly listen to the usual announcements about the state of my seat back and tray table, but then something stands out from the usual checklist. She says a bit about something being approved by the Ministry of Health… going through the cabin… people with contacts may want to close their eyes. NOW I'm paying attention.
I see the flight attendants at attention at the front of the plane with aerosol cans held high. They let loose with a cloud of spray and walk the full length of the plane, and then back again making the entire place foggy. I tell David, a fellow business traveler, "Anytime I hear that something is approved by a ministry I can only believe it's trouble." If we need to be convinced, then I am doubting its benign nature.
I hold my breath as long as I can, but it's not like the air is going anywhere. Seriously, what the hell was that? "Hoof and mouth disease" someone tells me. Say what? So now we are being fumigated like beasts in need of delousing?
It's a hero's welcome back to Shanghai. Funny thing about all those guys holding up names at the arrivals? A good number of them are hawkers with fake names on their signs just so they can get past security to offer overpriced rides into town. I take the Maglev, because it levitates on magnets and that is about as freaking cool a Star-Trek-has-become-real experience as you'll find here. An hour later I am down on Nanjing Road hauling my leaden suitcase with an uncooperative wheel to the Charms Hotel, a misnomer if there ever was one. At my heels are various watch/bag hawkers and prostitutes, already harassing the heck out of me. (see my previous video about Shanghai)
It's China, so one needs to remember to adjust the sense of humor. A group of American guys waiting for a light to cross the street are being worked over by a You-want-lady-massage guy and just finding it humorous rather than getting surly with the pest.
At the hotel I remember that in China, even in some of the finer hotels, service with a smile hasn't really sunk in yet. They may not even be unhappy or displeased to see you. They just don't smile. I say "Ni hao" and the response is a curt "Check in?" without a glance up from the computer. I am being "served" today by Number 3014. That's what her name tag says. One is only a number here sometimes. Another clerk comes over and says "200!" Excuse me? "200 RMB. Deposit." Yes, ma'am, and I give her my card.
Before I take my key card I say, "That's a non-smoking room like I requested, right?"
"Yes, we can do that."
"Great." But I squint one eye at the way she phrased that.
I am paying more than usual, slightly more upscale than my $50 hotel for convenience sake and tricky flight time on Friday. So of course I can expect double the bill and half the service. Everyone stands staring at me as I drag and stumble my luggage across the lobby when I come in and when I depart for the elevator. Granted that means I don't need to tip anyone and I kinda prefer it.
I get on the elevator and a housekeeping woman stomps in right after me and crowds me back into the corner. She gets out on my floor ahead of me, like she's got business to take care of. I orient myself with the numbers on the wall; my room is left. Down the hall I hear a quick knock and "How keepeee" and come around the corner to see she is in my room in the dark, no time to get out a keycard. I put my card in the power slot and the lights go on. She says Ni hao and comes back out with the ashtrays in her hand. Nonsmoking now. Yes, we can do that.