Cruising the Danube River: Salzburg Day Trip Photo Gallery
It's one of those confessions I loathe to make because anyone within earshot will go into spasms of disbelief and OMGs. But the truth is I have never seen The Sound of Music.
I know, I know. Some people watch it every year it seems and they love it oh so much. I have somehow managed to learn little more than Julie Andrews is in it and about 4 songs are familiar to me. (It was 3 until this trip when I found out "My Favorite Things" was from this musical.)
So all the tour guide's references were lost on me when I boarded a bus from a river boat on the Danube (more river cruise posts) and rode up into the hills that were alive with the sound of, well, tourists. But as I was told, I am not the only one unfamiliar with the film. Most Austrians (outside of Salzburg anyway, where it is a staple of tourism) have no idea what the hell it is. Though the film was released in 1965, 20 years after the end of World War II no one really wanted to sing along with a movie that involved the Nazis and Austria's annexation into the Third Reich. Go figure.
Salzburg is beautiful in its own right and its historic center is listed as a UNESCO World Heritage Site, but the musical forever emblazoned it on the tourism map. There are tours specifically around The Sound of Music and our guide pointed out film sites and told behind the scene anecdotes.
The city is worth visiting, but the onslaught of buses is a sight not to behold. If there is a better time to come, it is advisable you choose it. Early in the morning? Maybe. Or stay later in the day or overnight so that at least the daytrippers mount their rides and clear the streets.
Salzburg's connection to music doesn't end there, of course: It is also the birthplace of Wolfgang Amadeus Mozart (1756-1791). And if you thought they worked The Sound of Music to excess here, you ain't seen nothing…
There's Mozart's statue…
Mozart's birthplace where his parents could head downstairs for some formula and a bag of Doritos at the Spar…
Mozart's apartment, and no doubt his bike rack…
Mozart graffiti-style street art…
Mozart's baptismal font (not his personally, he shared it with a few people over the centuries)…
Mozart's bridge…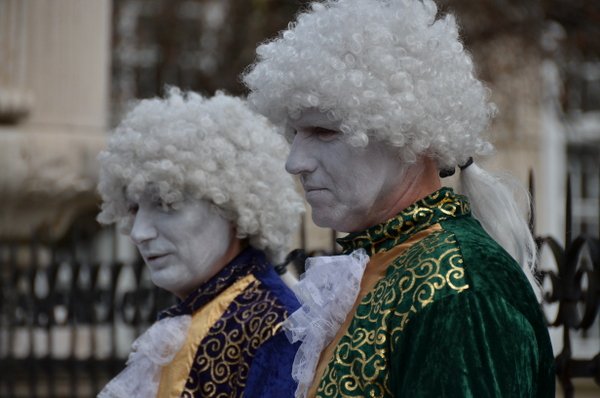 Zombie Mozart impersonators, thankfully mute…
and of course the classic: his balls. Mozart Balls or Mozartkugel are bonbons first made by Paul Fürst in 1890. His shop is still open here and the chocolate-covered marzipan and pistachio nougat wonders are handmade, unlike most of the competitors' balls.
The 1628 Baroque Salzburg cathedral is lovely. Previous manifestations burnt to the ground. Mozart played the organ here and that baptismal font can be found here too.
Whether you are a teenager with a spray can or an important international figure, everyone seems to want to carve his or her name on things. "I was here!" Not everyone works in marble, however. Translation: "Pope John Paul II was here."
McDonald's is also here, keeping it classy.
I appreciated the atmosphere of tolerance in Salzburg. The city is apparently open to Schmucks.
Cool and perhaps a bit unnerving statue. What does it mean, Dan Brown???
Mozart's got nothing on this guy. That's huge. And golden.
There are statues just about everywhere in Salzburg, and this one… well… that looks a bit painful. Snakebite!
Hohensalzburg Castle dominates the Salzburg skyline. Visitors can take a funicular up to see some great views over the city for about 11 Euro roundtrip. They say it is the oldest operational railway in the world. Construction of the fortress began in 1077 as a place for the archbishops of the Holy Roman Empire to "protect their interests." The earthly ones. This shot is taken from the gardens of Mirabell Palace.
Also within the Mirabell Palace grounds are these steps where the Do-Re-Mi scene from The Sound of Music was filmed. I recognized them immediately.
One of the pedestrian/street musician/panhandler bridges over the Salzach River at the heart of Salzburg is also known as the Makartsteg bridge. The classy chain-link fence that lines it is covered with "love locks" as couples often snap padlocks on and throw the keys into the river.
From a rest stop outside the city. Now isn't THIS what you imagined when you heard "The Sound of Music"??? What you dream of…
… and what you find, aren't always the same. (a view from the train station. Don't worry – Salzburg really is well preserved back at the UNESCO city center.)
See more posts and photos from our Uniworld-sponsored Danube River cruise from Germany to Hungary.