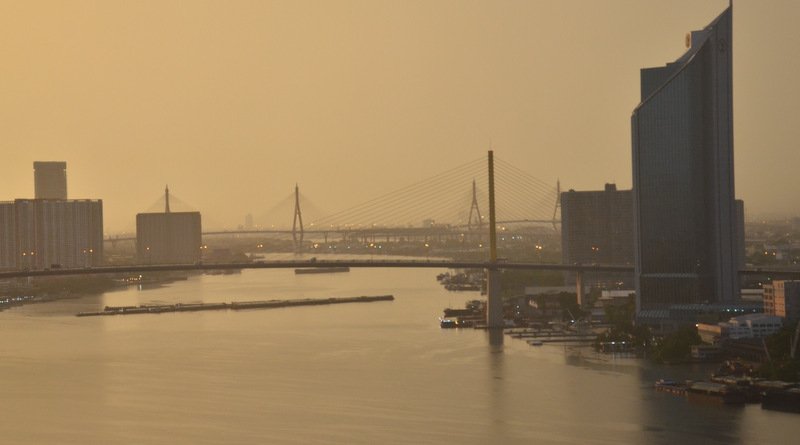 by Kevin Revolinski
Quarantine to me always meant science fiction movies where something untoward has happened to the characters and they are forcibly removed by men in hazmat suits to an undisclosed location. I'd never imagined that for my next vacation I'd be actually booking my quarantine. A bit like shopping for your prison cell: Can we get something with a southern exposure and Netflix, and perhaps exclusive time in the yard? But so it goes, and we spent a week in a 462-room hotel with 10 rooms occupied. Bordering on a sci-fi story, but with a 24th floor river view and hazmat suits that were light and disposable.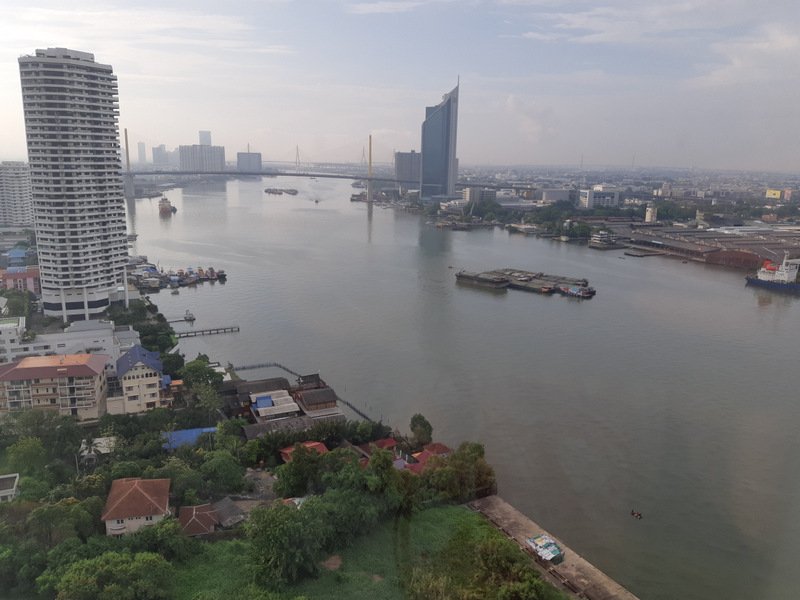 We return annually to Bangkok to visit my wife's family, and as her mother approaches 80, it has become more of an imperative. So when 2020 put the kibosh on March travels, we waited – like many – for a travel opening. Thailand closed its borders completely until October 20, 2020 after which one could enter only with a pre-approved Certificate of Entry (COE), and even then a fourteen-day hotel quarantine was enforced. These efforts helped keep the Thai average daily COVID cases at nearly zero from May through December, and even after a spike at year's end, deaths remained less than 100 in the country of nearly 70 million – more than double the population of Texas but three-quarters the area.
An Opening
Finally, on April 3, 2021, the Thai government announced a seven-day stay for travelers with vaccinations at least two weeks beyond the final dose and less than three months old. Moderna jab No. 2 had already been scheduled, so my wife immediately asked for four weeks' vacation, and we started gathering the documentation necessary for a COE from the consulate. The process included obtaining travel insurance with minimum coverage of $100,000 specifically mentioning COVID, which seemed silly. "It is an illness and should be covered under typical health coverage," I argued. Once bitten, twice shy: a company had denied coverage to a traveler who got COVID and the Thai government was left with the bill, the consulate staff person explained with characteristic Thai patience.
That night I requested a letter with the required verbiage from World Nomads travel insurance, and a signed PDF was waiting in my inbox the next morning. We resubmitted our COE application, got approval, and had fifteen days to book flights, pay half the hotel, to receive the actual document. That and our passports, vax cards and even a marriage certificate (as we have different surnames) went to the hotel, and were good to go – after a negative COVID test result within 72 hours of takeoff. Documents for all of these things had been sorted by the consulate and hotel, but had to be presented for review again by Japan Airlines agents at check-in at O'Hare.
We sashayed through security, chatty with TSA agents with nothing much to do. We boarded a plane with 34 passengers to Tokyo Narita and lay out across the middle seats, and had a similar experience on the connecting flight to Bangkok.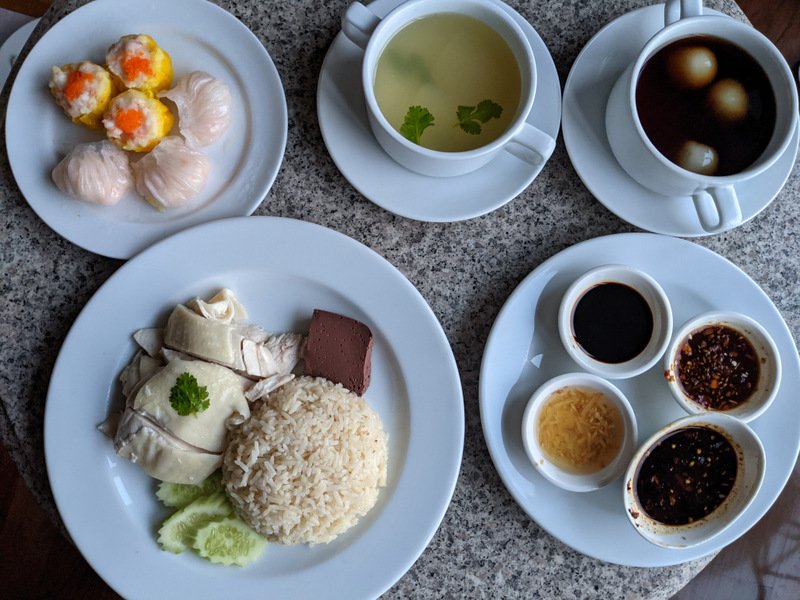 Arrival
Thai nationals returning home can get basic accommodations paid for by the government, but we had a list of select tourist hotels in the city. I came armed with a stack of books and a Netflix password.
Immigration meant document sorting again, twice, a temperature check, and an escorted walk to the actual immigration area where… documents were sorted, stamped, questions were asked, and finally we met the typical stamp-your-passport agent. A process that took over an hour – not unusual at Bangkok's Suvarnabhumi International, but surprising with only three planes parked at gates.
A hotel representative walked us to the curb where we met the driver from the hotel's partnered hospital. He asked us to place plastic baggies on our shoes, and despite staying together, the two of us had to sit distanced within a van lit up with decorative welcome lights, like something straight out of Vegas, belying the purpose of our stay.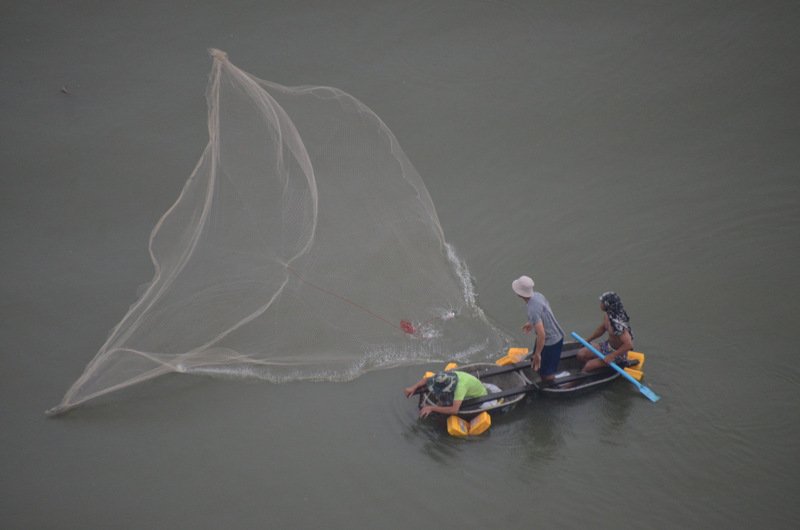 Rules: you cannot leave the room. All meals from daily set menu options will be delivered to the room on trays; leave the dirty dishes outside the door. Submit photos twice daily via LINE (the Thai messenger app of choice) of your temperature readings (armpit thermometers provided and kept as souvenirs). On Day 5 you receive a COVID test. If negative, you receive a certificate when you leave on Day 7. Like summer camp.
We chose wisely. Montien Riverside Hotel is an older property but well kept. Large rooms show wood floors and crown moldings, and most importantly, a nearly floor-to-ceiling window overlooking the mighty Chao Phraya River with an angle on sunrise. We watched the tide rising and falling, the tugs, barges, and longtail boats casting wakes, and the locals fishing and swimming. From our 24th floor perch we boat- and bird-watched, took time-lapse videos of river traffic and the fading colors in the clouds at sunset, and dined at a small marble table looking at the city under glass.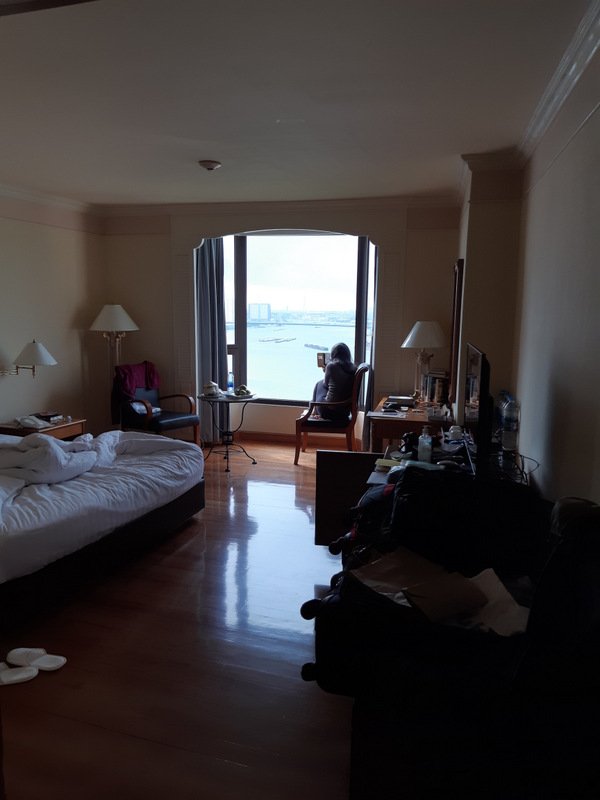 A Curious Twist
Yet all of this was one part bullet dodged: while we were in the air over the Pacific, Thailand's third wave (if one counts the first two as anything much more than ripples) compelled the government to increase the quarantine again to fourteen days-even for the vaccinated. Had we landed a few days later, we'd have been subjected to it and the doubled hotel costs. We counted our luck though we would not be allowed our daily strolls in the riverside garden.
All Bangkok restaurants and bars were immediately closed or limited to delivery or pickup. (Ten days later they reopened at 25% capacity.) At the same time, despite current daily infection levels remaining much higher than all of 2020, the Tourism Authority of Thailand (TAT) announced a new "sandbox" plan for Phuket tourism. Starting July 1, vaccination cards or negative COVID tests will grant quarantine-free entry to travelers flying directly (or if direct flights were unavailable, connecting via a quarantined terminal at Suvarnabhumi International) to the popular southern island in the Andaman Sea. TAT expects more than 30,000 tourists monthly. Such is the nature of travel in destinations aggressively adapting to the pandemic.
As for us, we were released for good behavior and took a taxi directly to Krua Apsorn, our favorite restaurant, to pick up a carryout order for Mom.
Keep abreast of current travel guidelines at the Thai embassy's website.