Hanging (and Eating) in Ann Arbor, Michigan
Ann Arbor is for Foodies.
If I had one phrase that captures my impressions of the place, that'd be it.
I roll into Ann Arbor and my first stop is one of those greasy-grill institutions that everyone who's spent time here knows about and says "you just gotta." The line at the counter, in what used to be a little corner market, is already long and the instructions for ordering, I'm told, are very specific.
And screwing up the procedure will make the help cross. Whatever you do, don't tell them what cheese you want on your burger until they ask. That's one of the last steps; why would you rattle that off right at the beginning and confuse the situation? We haven't even cooked the burger yet. Don't even get me started on toppings.
Krazy Jim's Blimpy Burgers come in 1/10-pound increments of beef ground in-house, and you can order a single, double, on up to a quint – a half pound. Anything destined for the deep fryer – fries, mushrooms, veggies – is ordered first as you slide your cafeteria tray along the counter from the drink coolers in back. One step more and you order the meat amount at the grill, choose the bread for the bun, but please, wait for the cheese request. Dictate the toppings at the next step (god help you though if you didn't order bacon at the grill step), and be sure your wallet is ready. Screw this up and get a dirty look or worse. Don't worry, it's all in good fun. I think. Be sure you brought cash, or expect the stink eye.
It's a delicious burger at a decent price with a funny shtick, and so you better believe this is a big hit with the college students.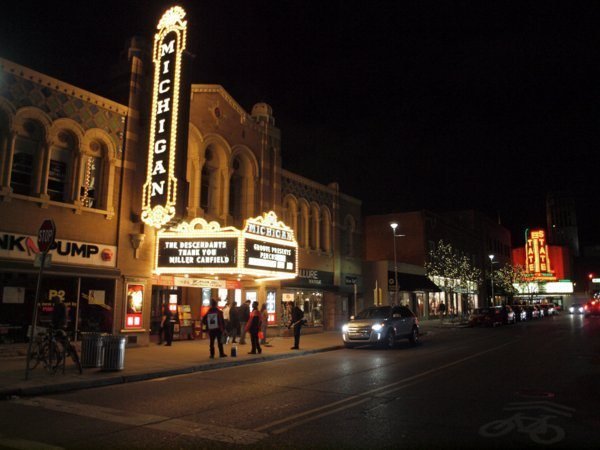 I've always been a fan of university towns. The youthful energy of those who are living in the post-teen purgatory of higher education, and the adults who somehow managed to carry embers of that spirit with them after tossing up the mortar board. There's little of the hassle and hustle of big city life, and yet none of the doldrums that a small town can summon up on any day. There's always something going on. Always a new place to try that opened in that place where So-and-So's used to be.
Belly full, I looked over my list of stops. Next up: Frita Batidos for a killer milkshake and a Cuban-influenced menu described as "whimsical." I figured out right quick that time in Ann Arbor was going to be primarily about food and drink.
What makes Ann Arbor a superb escape is its variety of decidedly local experiences. In a world being overrun by chains and the we-all-order-from-Sysco offerings, same as someplace four hours flying from wherever you are, Ann Arbor has a personality. It's like you get to borrow someone else's hip friend to hang out with for the weekend. Go to a Michigan football game and meet up for beers at Ashley's for the 50 taps, or make reservations at Grange for about as serious a farm-to-table dining experience as you can get.
The heart is where the heart should be, right downtown, and Ann Arbor's got a big one. Rather than a single Midwestern Main Street it is a fine hash tag of avenues lined with shops and restaurants nestled up against a major university campus. Everything is walking distance, it seems. From the campus art museum, to a farmer's market, to a microbrewery or three, and off to dinner and a concert.
A bottle of sour brown ale from Ann Arbor Brewing Co.
Kerrytown
Just a few blocks north from the center of downtown is the historic neighborhood known as Kerrytown. Once a somewhat sketchy area in the 1960s, it was one of the first really successful redevelopment projects in the US. It is here where you find Ann Arbor's farmers market which has been going strong over 92 years now. (Get the best scone you'll ever have and sip one of nearly 200 varieties of tea at TeaHaus before hitting the market. I did.)
Over 150 vendors table up on Wednesdays and Saturdays under a covered walkway. Organizers have focused on diversity for consumers; they analyzed what was missing from the mix and actively pursued sellers who could fill the voids. So whether you want fresh herbs, eggs, pickles, homemade soap, baked goods, heirloom veggies, grass-fed beef, fresh cheese, donuts, or maple syrup – they've got you covered. I've seen bigger markets, but the breadth of items would challenge any of them. And unlike most, this one stays open – and outside – even during winter. Mingle with the locals and take home some Michigan products, maybe the pickles, kraut, or kimchi from The Brinery.
Fine cheeses at Zingerman's from all over the world — even imported cheese from Wisconsin.
Just a block away is another Ann Arbor institution. You can't come to this town and not experience Zingerman's. What is Zingerman's? Is it a deli? A creamery? Bakery? A barbecue joint? Yes, all of the above. Zingerman's is as much an attitude as it is a place – rather several places – on the map. There is no Zingerman. The name is the creation of U of Michigan grads Paul Saginaw (can a name get more Michigan than that?) and Ari Weinzweig who started with a deli in 1982, and have since been adding to a list of food-related businesses, all of them with their own proprietors who have become partners of what I'd call the Zingerman's movement.
Inside the deli — racks of fresh bread behind us, a world of cheese lined up before us under the dangling cured hams — my travel companions and I resembled those goats you see at a petting zoo: We just congregated at the deli counter, following the hands of the clerks as they reached out with abundant samples. They have more varieties than you've heard of, and they encourage you to explore. They do gift boxes by mail, the Praise the Lard box of six cured pork products is a popular one. I left the deli with some raw milk cheddar and a "meat cone", a cup of freshly sliced charcuterie curled up like an ice cream cone with a few pickles dropped in the center.
Then I hit Zingerman's Next Door (you can guess its proximity to the deli) for coffee and sinful desserts. But I'm only scratching the surface. Scattered about the city are also a candy manufacturing company, a bakehouse, coffee roaster, and a creamery where you can sign up for a one-session cheesemaking activity.
One particular Zingerman establishment got some extra notoriety in 2011. Where might you expect the top chef of the Great Lakes to be working culinary magic? Fancy digs in a big city? Chicago maybe? Nope. Ann Arbor elbows out the City of Big Shoulders thanks to Alex Young at Zingerman's Roadhouse who recently took the James Beard Foundation Best Chef honors for the Great Lakes. He's raising his own meat. Seriously. Outside is an aluminum camper-trailer functioning as a drive-up window, and out back is an enormous smoker, the producer of some really fine Southern-style barbecue.
Entertainment
Once you've fed the body, feed the soul. Get grungy and funky at The Blind Pig. It's not going to win any interior design awards, but this live music venue packs 'em in and offers up a soul night like no other. It's fun to see multi-generations digging on the timeless tunes of Stax and Motown.
Just another couple blocks and you are at The Ark, a near-and-dear performance venue which was founded by four churches as a sort of coffeehouse/safe social gathering spot in 1965. The home of the annual Ann Arbor Folk Festival (an excellent excuse to come to town), and now in its third home over the years, this 400-seat hall is the oldest non-profit acoustic club in North America and brings a variety of artists and styles – some pretty big names – in for intimate shows. Shaun Colvin took the stage while I was there and she could have unplugged completely and I'd still have heard every note in the back row.
There's Ann Arbor Comedy Showcase if you want a good laugh. The autographed photos in the hall are a veritable who's who of comedians. Just 15 miles west of Ann Arbor is Chelsea, home of Michigan-native Jeff Daniels' fabulous Purple Rose Theatre.
Along with the University's art museum, you can visit the Gerald R. Ford Presidential Library or the Ypsilanti Automotive Heritage Museum. The Corvair, the Caprice, the last model of the GTO were made in Ypsilanti, 12 miles out of Ann Arbor. The town was also the home to auto designer Preston Tucker and the last Hudson dealership.
So, OK, you got me – it's not just all about food and drink in Ann Arbor. But it certainly could be. When in Ann Arbor, eat as the Ann Arborians do: very well.
__________________________________
While there is no shortage of reasonable hotels (be wary of big football weekends at U of M) of the trusted brand variety, there is one particularly unique experience architecture fans should check out. Frank Lloyd Wright's Palmer House, a three-bedroom home, is open for guests.
Getting to Ann Arbor is a snap. Fly into Detroit and it's a fifteen-minute drive west on I-94.