Door County Brewery Tours
Opening Wisconsin's Door to Beer
Wisconsin's peninsular "thumb" gives the thumbs up to craft beer these days. In May, Green Bay hosted its first craft beer week, while up in Door County, Bailey's Harbor hosts the 4th annual Door County Beer Festival on June 20th and Egg Harbor has AleFest on September 19. But if you miss the big events, rest assured that these days there is always great local beer available from Green Bay all the way up through the Door Peninsula.
Green Bay's first two craft breweries are nothing new; they came one right after the other two decades ago. Hinterland Brewery opened downtown in 1995 and Titletown Brewing followed the next year right across the street.
If you tour Hinterland Brewery, you can see that the amount of effort it must have taken to expand and arrange the massive tanks and equipment in this limited space, a former meat-packing plant, is akin to a three-dimensional 15 Puzzle. Nevertheless, Hinterland produces 6,000 barrels of beer and bottles much of it for distribution in ten states. The upscale restaurant flies fresh seafood in daily and there's a classy lounge upstairs if you are just in for the beer. Their flagship Luna coffee stout is a big hit only to be topped perhaps by the imperial stout version, Lunatic. Watch for limited releases such as barrel-aged beers or their Grand Cru, but their staple Pub Draught on nitro is a fine session ale.
Until recently, Titletown Brewing had been doing quite nicely producing enough beer to keep up with its killer brewpub operating out of a restored train station overlooking the tracks and the Fox River. But in 2014 they made the move to bottling and bigger batches when they opened a much larger brewery with a bright and spacious taproom right across the street in a former vegetable cannery. A rooftop patio is planned for this summer. However, the two-story depot, a relaxed space with a fine pub menu and two bar areas, still brews smaller batches and serves up to 14 beers plus a couple of cask ales. Green 19 IPA and Johnny Blood are the first mainstays into bottles, but brewer David Oldenburg covers everything from pilsner and pale ales to Bridge Out Stout and the occasional sour beer and they are abundantly on tap in both locations.
Two more recently opened breweries have solidified Green Bay's status as a beer destination. The previous success of brewer Brad Stillmank's delightfully named amber ale, Wisco Disco, under a contract brew arrangement helped him make the jump to brewing it in his own facility not ten minutes east of Titletown and Hinterland. Stillmank Brewing's taproom is food-friendly and offers eight on draft and four-pack cans or growlers to go.
Within sight of the stadium lights at Lambeau Field, Badger State Brewing occupies a former warehouse space inside the city's tailgating zone. Patrons in the bustling taproom spill out onto the grass of the beer garden in summer. With 24 tap lines, the brewery offers up to 16 of their own brews and fills the rest with Wisconsin guest beers. Brett Favre's steakhouse next door delivers to the tap room. While Green Chop Session IPA is a big seller, Walloon Witbier outpaces it in summer. Pilot batches are common, as are barrel-aged beers.
Almost halfway up the peninsula, Starboard Brewing opened in a storefront in downtown Sturgeon Bay in the fall of 2014. This is a modest one-barrel operation, so what's on tap today might be gone by the end of the week. Brewer Patrick Surfus likes to keep things interesting for his regular customers, giving them more reasons to keep coming back just to see what's new. He even takes beer requests on Facebook.
Farther up the road in Egg Harbor is Door County's original brewpub Shipwrecked which gets packed in summer with folks filling the dining room and the outdoor patio for pub food and house brews. Additionally, they offer eight guestrooms upstairs for those who have no intention of driving that night.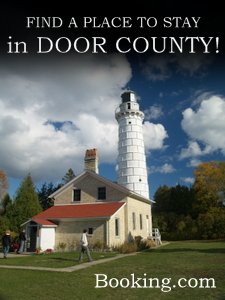 On the Lake Michigan side in Bailey's Harbor, Door County Brewing is all about local, from the ingredients to the stories of the beer names. Located in what was once a feed mill, the brewery still shows the stone foundation and bark on the original wood beams. Brewer Danny McMahon tends toward Belgian-inspired brews and some sour beers in honor of Door County's history of Walloonian immigrants from southern Belgium. Door County Brewing's four seasonal farmhouse ales are named for historic Belgian farms in the area. Little Sister Witbier – named for an island not a sibling – is the most popular of their staples, while Polka King Porter celebrates a small-town character everyone knew. The Door County Trolley connects this brewery with Shipwrecked on one of its tours.
Also on the shores of Lake Michigan, Ahnapee Brewing in Algoma is sister to the von Stiehl Winery next door, so you have your choice of grapes or grain. The brewery taproom and its patio overlook the Ahnapee River and eight house beers are on tap, from a light Helles to a dark milk chocolate stout, with some hoppy and malty options in between. A visit here pairs nicely with a winery tour.
So you might want to pack a growler for your next trip to Green Bay and Door County, but don't worry, all of the brewers have bottles or cans for sale throughout the area as well.
Want more information about over 130 Wisconsin breweries plus some free beer offers?
Kevin Revolinski is the author of Wisconsin's Best Beer Guide: A Travel Companion
If You Go:
Ahnapee Brewery
105 Navarino St, Algoma, WI 54201
(920) 785-0822
vonstiehl.com
Badger State Brewing Co.
990 Tony Canadeo Run, Green Bay, WI 54304
(920) 634-5687
badgerstatebrewing.com
Door County Brewing Co.
2434 Co Rd F, Baileys Harbor, WI 54202
doorcountybrewingco.com
Door County Trolley
9197 WI-42, Fish Creek, WI 54212
(920) 868-1100
doorcountytrolley.com
Hinterland Brewery
313 Dousman St, Green Bay, WI 54303
(920) 438-8050
hinterlandbeer.com
Shipwrecked Brewpub
7791 WI-42, Egg Harbor, WI 54209
(920) 868-2767
shipwreckedmicrobrew.com
Starboard Brewing Co.
151 N 3rd Ave, Sturgeon Bay, WI 54235
(920) 818-1062
starboardbrewing.com
Stillmank Brewing Co.
215 N Henry St, Green Bay, WI 54302
(920) 785-2337
stillmankbrewing.com
Titletown Brewing Co.
200 Dousman St, Green Bay, WI 54303
(920) 437-2337
titletownbrewing.com
More Photos:
Starboard Brewing Co.
Stillmank Brewing Co.
Titletown Brewing Co. now in bottles
Sampler flight at Ahnapee Brewing Co.
The taproom at Badger State Brewing Co.
John and Danny McMahon of Door County Brewing Co.